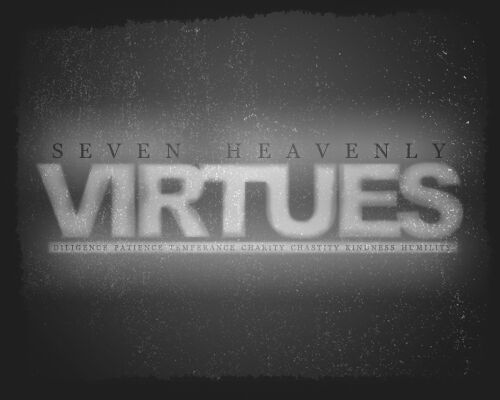 The heavenly virtues are embodied through the archangels Gabriel, Michael, Ramiel, Uriel, Raguel, Saraquel and Raphael; according to Chapter 20 of the Book of Enoch. They are the opposite of the 7 Deadly Sins.
Gabriel
[
]
"Gabriel is the archangel that guides souls, not only to the gates of heaven after death, but also onto the path of good in life."
embodied: Connors Fitzpatrick.
moral alignment: lawful good.
mirrored by: sloth, Belphegor.
Diligence
[
]
A zealous and careful nature in one's actions and work; decisive work ethic, steadfastness in belief, fortitude, and the capability of not giving up. budgeting one's time; monitoring one's own activities to guard against laziness. Upholding one's convictions at all times, especially when no one else is watching - integrity.
Michael
[
]
"Michael is the protector of the innocent and will answer to prayers more than any of the other angels. he finds in himself an unfortunate weakness toward the hardship of women."
embodied: Murphy Fitzpatrick.
moral alignment: chaotic good.
mirrored by: greed, Mammon.
Charity
[
]
Love, in the sense of an unlimited loving kindness towards all others, it is said to both glorify and reflect the nature of god. such love is self-sacrificial. generosity, charity, self-sacrifice; the term should not be confused with the more restricted modern use of the word charity to mean benevolent giving.
Cassiel
[
]
"Cassiel is the judicatory of the wicked, and punishes them accordingly. he's also a tempter and tests the goodness and virtue of mortals to see if they are truly worthy of being taken by Gabriel in death."
embodied: Tomislav Tolstoy.
moral alignment: true neutral.
mirrored by: gluttony, Beelzebub.
Temperance
[
]
restraint, temperance, justice. constant mindfulness of others and one's surroundings; practicing self-control, abstention, moderation, zero-sum and deferred gratification. prudence to judge between actions with regard to appropriate actions at a given time.
Azrael
[
]
. "
☀the Archangel of Death and Protection
embodied: Nicholas Ryker.
moral alignment: chaotic neutral.
mirrored by: wrath, Leviathon.
Patience
[
]
forbearance and endurance through moderation. resolving conflicts and injustice peacefully, as opposed to resorting to violence. creating a sense of peaceful stability and community, rather than engendering suffering, hostility and antagonism.
Ramiel
[
]
"Ramiel embodies hope and compassion, and advocates the goodness she sees in every creature - even demons. she is the bleeding heart of heaven, forgiving in her very nature and seemingly unable to anger."
embodied:
moral alignment:
mirrored by: Jealousy. Gadreel
Kindness
[
]
charity, compassion and friendship for its own sake. empathy and trust without prejudice or resentment. unselfish love and voluntary kindness without bias or spite. having positive outlooks and cheerful demeanor; to inspire kindness in others.
Uriel
[
]
"Uriel speaks the truth even when this may hurt, and this may make him come across as a little less good sometime,. he will always be the one to guide you out of the dark with visions of your potential and inner self, whatever this may be."
embodied:
moral alignment:
mirrored by: lust, asmodeus.
Chastity
[
]
to be honest with oneself, one's family, one's friends, and to all of humanity. embracing of moral wholesomeness and achieving purity of thought-through education and betterment. the ability to refrain from being distracted and influenced by hostility, temptation or corruption.
Raphael
[
]
"Raphael was once the angel of healing, embodying humility in contrast to Lucifer's pride. some time ago, he shed his wings and chose to live life on earth as a demi-angel. he still has extraordinary healing powers, despite not being a full angel anymore."
embodied: Brodie Lyons.
moral alignment: chaotic good.
mirrored by: pride, Lucifer.
Humility
[
]
humility is not thinking less of yourself, it is thinking of yourself less. a hermeneutic of suspicion toward yourself and charity toward people you disagree with. the courage of the heart necessary to undertake tasks which are difficult, tedious or unglamorous, and to graciously accept the sacrifices involved.
The Virtues
[
]
The Seven Virtues opposed the Seven Sins. In one scheme, the Seven Virtues are based on the three spiritual virtues listed by Saint Paul in 1 Corinthians 13:1-13: Faith, Hope and Charity, followed by the four Cardinal or "Pagan" virtues: Prudence, Temperance, Fortitude, and Justice
.In the Catholic catechism, the seven Christian virtues refers to the union of two sets of virtues. The four cardinal virtues, from ancient Greek philosophy, are prudence, justice, temperance (or restraint), and courage (or fortitude). The three theological virtues, from the letters of St. Paul of Tarsus, are faith, hope, and charity (or love). These were adopted by the Church Fathers as the Seven Virtues. https://faithandtheintuitivearts.wordpress.com/2014/08/15/seven-virtues-and-seven-deadly-sins/
‎
3 Theological Virtues:

Faith/Faithfulness (especially in God [who NEVER fails], Jesus Christ & the Holy Ghost/Spirit) (including Christian Faith, Good Faith, Jewish Faith, Good Faith & 'Not having faith in corrupt governments', Intentional Faith, etc.): We must trust in God that He will provide all our needs according to His splendor & glory. It's impossible to please God without faith. He is happiest when we put our faith in Him above all else. If you have little faith, you'll have a little breakthrough. But if you have BIG faith, then you'll have a BIG breakthrough. Faith is what moves God to act. Faith is the element in our relationship with God. Without faith in God there can be no profession of the Christian faith & this reconciliation is impossible. God wants to be pleased with faith (not faith in earthly government thou, but faith in God) & YOU should want to please Him. THAT should be our primary goal in our daily lives. There is power when you have faith in God / Jesus Christ. Faith's power isn't innate in faith. Faith is powerless if it's not placed in God. We must ensure that we place our faith in the eternal & powerful God, for He is the one who rewards. Faith is a mustard seed in placed in God can move a mountain & cause a fig tree to wither & die, cause us to walk on water, etc. Living by faith & not by sight. Let you faith (NOT faith in government or faith in the media, but you faith ONLY in the Holy Trinity [God, Jesus Christ & the Holy Spirit]) fight for you. There's unlimited faith in God / Jesus Christ ONLY!! Keep on fighting the GOOD fight of faith. Never lose faith in God, Jesus Christ & the Holy Spirit. Live by faith & not by sight. Always depend on God / Jesus Christ & NOT on earthly governments, or your/our ways, power or strengths. Stop believing that you can do all things without God, you must have/build unlimited faith/confidence in Him & have a closer relationship with Him ALWAYS. Pray without stopping & obey Him.
Hope/Hopefulness (even God, Jesus Christ, America & Israel are our hope): We must keep our hope alive if we're gonna live successful spiritual lives.
Charity/Generosity/Will/Benevolence/Sacrifice/The Common Good

4 Cardinal Virtues:

Fortitude/Courage/Boldness/Backbone (meaning strength of character) /Valiantness (Red color on the American Flag; Red also stand for the blood of Jesus Christ on the USA flag): you must overcome/destroy fear with courage & the Word of God. Making sure that the GOP (excluding the RINOs) & their legislatures have a STRONGER STEEL backbone & nerves stronger than just steel or any other earthly metal.
Justice/Equity/Constitutionality (including Equal Justice under the Law, Conservative/Right-leaning Justice, Anti-Rigged Justice, Real Justice, Actual Justice Warriorism, Non-Environmental Justice, "Innocent Until Proven Guilty", Swift Justice, Absolute justice, 'opposing social justice', 'conservative / right-leaning version of criminal justice system', 'FORCING ALL the courts & the Supreme Court to get AWAY from the 2-teir/3-teir justice/judicial systems & FORCING them [even if it means breaking their will] to stay on the side of the Right', Constitutional Republic, Anti-Woke Justice, Absolute Justice, 'treatment should be the same by the anti-rigged / anti-woke justice system', Governmental justice, etc.)
Providence/Prudence/Wisdom/Knowledge/Knowledgable/Sophisticated (Divine Knowledge)
Temperance/Humanity/Equanimity/Moderation/Sobriety / Emotional-Balance
Additional Members / Other Virtues (that are of the Holy Trinity [God, Jesus Christ & the Holy Spirit])
[
]
Good Thoughts:

When it comes to human history:

Refusing to believe that humans are the cause of so-called climate change
Refusing to believe that America & Israel are evil countries

When it Comes to Prehistory:

Dinosaurs of both the non-arctic & non-Antarctic regions not having feathers
21,000 years ago, humans from Europe reached North-America by crossing an ice bridge. Humans from Asia migrated to there by land bridge nearly 7,000 years later.
Dinosaurs died off from an asteroid strike 65-65.5 million years ago
Believing that both Giganotosaurus & Mapusaurus hunt sauropods
Saber-Toothed Tigers hunting in packs

Good/Smart/Wise Choices / Decisions / Behavior / Manners / Personalities / Ways

Sowing Good things
Removing the tares out of your life
Respectful Behavior

Thinking that Western Dragons should have 6 limbs (4 legs & 2 wings) instead of having 4 limbs (2 legs & 2 wings)
Putting a upper-case "L" for the Left & putting a upper-case "R" for the Right
Keeping believing in yourself as well as believing in God / Jesus Christ
Believing that "Love your enemies (the Left, the Democrats, liberals/leftists, woke corporations/schools, Chinese, the deep-state [the elites, establishments], voter-frauders/riggers, indoctrinators, the Biden-Harris regime, etc.)" is nothing but a cruelly sick & twisted joke.

Chastity/Purity/Abstinence/Wisdom/Insight (including spiritual & psychological insight): asking God for spiritual insight & praying to have spiritual/psychological eyes/hear open & awake. You need God's wisdom to make the right/correct (anti-politically correct in fact) decisions
Diligence/Persistence/Effortness/Ethics/Ethical: Hard work makes you rich. The Bible encourages hard work. Guard your heart, thought, & mind with ALL diligence. Seek God diligently & WHOLE heartedly with whole-hearted worship (NOT half-heartedly)
Patience/Forgiveness/Mercy
Kindness/Gratitude/Satisfaction/Compassion
Humility / Bravery / Modesty / Reverence / Humble / Humbleness / Meekness / Never Too Proud / Modestness: we must put a dent in pride. So STAY AWAY from pride & its wickedness for that is the ultimate sin. Save the humble people & bring down the haughty looks. God ALONE is worthy of having honor glory & praise & He is NOT gonna let pride steal the glory of God. Although very omnibenevolent, He doesn't share His glory to anyone. A humble person says, "have your way with the Holy Spirit" & a prideful person says, "this is want I'll do next. This is my next move". If we have any pride at all, God will RESIST us, for He resists the proud. If you have a proud spirit, the Holy Spirit resists you. Pride blocks the Holy Spirit & the Holy Spirit can do little or nothing at all in someone that is full of pride. It clearly shows how we are dependent on God & we need Him to do absolutely everything we take for granted, everything we do consciously or subconsciously, everything to stop the Left (& their national/international allies & tactics/culture from destroying America/Israel & its foundations/history) for us the Right. Without God / Jesus Christ & the Holy Spirit, you can do NOTHING! Pride has NO place in our lives. God gives grace to the humble.

Having a REAL humble spirit
Remain depended ONLY on God, Jesus Christ & the Holy Spirit (& NOT on government or handouts) so we can do ABSOLUTELY EVERYTHING
NOT letting you left hand know what your right hand is doing
Lovers of God more than lovers of pleasure
It's better to be of a humble spirit with the lowly than to divide the spoil with the proud

10 Commandments of God / Jesus Christ:

I am the Lord thy God which have brought you out of the house of bondage, and you shall have no other gods before Me. You must worship only the Good Lord God & serve only & His Son Jesus Christ.

You can't sere God & Satan / Self / money. You must worship & serve ONLY God!!! Get your eyes off yourself & place them on Jesus Christ. Don't exalt yourself to become a god in your life

You shall not make idols nor bow down to it or worship it. You must never worship false gods. NEVER commit idolatry or idol worship. Remove ALL & EVERY idols in your heart, mind, soul/spirit & strength NOW & seek God / Jesus Christ ALONE!! Destroy ALL alters (whether it's money, idol or a person) that have been raised in your hearts, minds, souls/spirits & strengths which are NOT of God!!!! God HATES idolaters & he DOESN'T like anything taking place in your heart, which is why He is jealous!! Don't let idols leave you unprotected, there are ways to destroy idols in our hearts, minds & souls/spirits & focus on God alone.

Open your life to Jesus Christ. He's at the door of your life, knocking. He is calling on your to open so that he can cast the idols OUT of your heart, mind, soul/spirit, strength & personality/behavior. You have to walk to the door NOW & open, you have to retrace your steps & ask for forgiveness. The things that you place above God MUST BE DESTROYED!!!!!
Pray with Holy Fire in you. Idols are NOT things that you should be playing a joke with. You must NOT pray as if you are negotiating, you must go AGAINST Satan/Lucifer the devil king in God's name & DESTROY the idols in you!! It's time wage spiritual warfare AGAINST the idols in you, you MUST go to God in the place of prayer & FIGHT these idols you've built in you. DON'T go in teh spiritual battlefields without the FULL Armor of God; you MUST put in on & use it to fight & NOT surrender to idols sponsored by Satan.
Put God / Jesus Christ FIRST in everything you do. Put them FIRST in your life & everything will work fine
NEVER worship a person in God's place!!! Pray in the name of Jesus Christ.
God FORBIDS us humans from worshipping idols; especially a person, picture, etc.
Destroy any & ALL idols & idolatry that you worship in your life & DESOTRY all attachments to sin & idolatry Remove & destroy ALL idols in yoru hearts, minds & souls

You shall not take the name of the LORD your God wrongly or in vain. You must misuse the name of the Lord your God.
Remember the Sabbath day, to keep it holy.
Honor/Respect your father and your mother.

NEVER insult your parents & never steal from them.

You shall not murder/kill.
You shall not commit adultery. Never covet your neighbor's wife/husband or that of your relatives or friends. Never do homosexuality, transgender or inbreeding.
You shall not steal (not even votes/elections, etc.).
You shall not bear false witness/evidence against your neighbor. Always tell the truth and never lie, especially under oath; Never commit fraud. We must never lie but walk in truth & honesty
You shall not covet. You must never want what belongs to others.

Life (including Pro-Life, Protecting the Life of the Unborn Human Babies, etc.)
Will (including Free-Will, Willpower, Goodwill, etc.)
Freedom (including Religious Freedom, Free to Learn, Free to Speak, Free to Worship God, Free to dream of a dream & see it through, Human Freedom, Freedom of Speech, Free-Thought, Economic Freedom, spiritual freedom, etc.) (it's what the USA Flag represents)
Joy/Joyfulness
Peace/Peacefulness
Virtue / Goodness / Heroism / Benevolence / Justness
Light/Brightness
Generosity (that includes loyal love)
Reliability
Sincerity
Friendship/Friendliness
Unity (including National Unity, race relations [meaning some races need to start behaving themselves & need to figure out their own problems in their own communities], etc.)
Duty (including Constitutional Duties)
Destiny
Miracles (including God's Miracles & Jesus Christ's Miracles)
Perseverance (including Perseverance to a Call) (Blue color on the American Flag; Blue also represents the bruises of Jesus Christ on the USA flag)
Honesty / Honestness / Truthfulness / Veracity / Candor / Straightforwardness / Sincere / Be Honest (including exposing the truth about everything, the Whole Truth, 'Having the right to tell the Truth but not having the right to Lie', 'Destroying all lies', Positive truths, 'Choosing truth over lies', 'Choosing the path of Jesus Christ', Anti-False Testimonies, Absolute Truth, etc.) (White color on the American Flag): We must never lie but walk in truth & honesty. Always remember, lying is Lucifer/Satan's native language for he's the father of lies. When the devil of all devils speaks, he does so out of his own character & his own nature. It's the way he operates. We must NOT be ignorant of this for we know his schemes & & are 1 step ahead of him. With every word he is aiming to leak God's live-giving truths from our minds. So NEVER doubt the truth that comes from both God, Jesus Christ & the Holy Spirit! We need to STOP believing the lies from Lucifer/Satan the devil king & his devils/demons!! We must also stop believing the lie that "I have to be perfect", because it's a dangerous & deadly lie to our spirit. God KNOWS that we're not perfect. Besides, there is 1 man that lived a perfect, sinless & spotless life & that's Jesus Christ. As the TRUE children of God, it is our duty to remember truth & it tells us that God IS with us & He is our refuge & our strength & ever-present help in trouble. You don't want/have to listen to the native language of the devil or his lies. As believers, we should know the Word of God. God is ONLY interested in broken people like us the Right, NOT the proud people like the Left. We must look into the good that is in our lives & come beneath the lie of perfection to give God praise. When we are yet sinners, we have to embrace THIS eternal truth & not the devil's lies. Those who worship God must worship in both spirit & truth. God never lies. Truth is the OPPOSITE of lying. While Satan is the father of lies, Jesus Christ is the father of truth. God has given us a Sound Mind & NOT the spirit of fear.

The Clinch Fist/Sledgehammer of Truth
Steps to stop lying:

1) Decide that you want to stop lying, for lying will lead to nowhere but to a place of destruction (that's what happened to Elisha's servant)
2) Asking for the Holy Spirit (the spirit of God & the spirit of truth) to come into your life & ask the spirit to help you stop lying
3) Pray that God helps you. Prayer will always be one of the solutions to our problems. If you don't like the way you lie all the time, pray to God that he helps you & gives you the strength to stop lying & the strength to call Jesus
4) NEVER tell lies or half-truths, because lying grieves the Holy Spirit & lying can NEVER bless truth or make a situation righteous

Ways to AVOID lies:

Always avoid & see/hear through both a proud look & a lying tongue, because God HATES lies
You have to do all it takes to withdraw from the family of Satan the devil king & you should NEVER be part of the children of the devil
DON'T let lies push you into the pit of life. You can't be doing what God hates
Worship God in both spirit & truth. God wants those who tell the truth, those who are IN truth & NOT those who tell lies
God will give you COURAGE & it will prevent you from lying. Truth gives you life while lying gives you death. We must behave like God, for He & His Son Jesus Christ are the God of Truth, & we need to behave LIKE the children of God Almighty
Be honest & worship/seek ONLY truth & God
AVOID speaking the devil king's lying, which is lie/deceit
Reject ALL the lies from the government & evade all the propaganda
Stay away from both false doctrines & the doctrines of devils, no matter what form or shape they take

Believe that Jesus Christ IS the Son of God
Believe that Jesus IS the only way to God
Believe that the Bible is the Word of God

Don't let anyone (the Left, the politicians [Democrats, RINOs & the Deep-state], progressive teachers [& their incorrect teachings], activist judges, the "experts") or Satan the devil king (including the Antichrist & his False Prophet) deceive you in anyway.

Telling the truth for the RIGHT reasons & undoing the works of both the false prophets & those who claim to be Christ or sent by God/Christ
NOBODY likes deceptive people who make unfulfilled promises

Concord/Harmony/Harmonious
Law & Order (including True American Law & Order)
Innocence (including selfish innocence [for babies], etc.)
Creation/Creativity
Prosperity
Trust (including Public Trust)
Understanding
Valor (including True American/Christian Value)
Passion
Embrace/Embracement (meaning 'Embracing God & rejecting both Satan & the spirit of fear', etc.)
Renewal
Happiness
Liberty (including Religious Liberty, Civil Liberty, etc.)
Loyalty
Nobility
Guidance
Directions
Selfless Righteousness (which the White color on the USA flag also represent Jesus Christ's Righteousness)
Honor (including True American/Christian Honor)
Scrupulous/Just
Dreams / Good Dreams (including the American Dream)
Wonder
Memories
Fun
True Storytelling
Sharing
Caring
Selflessness (including putting someone else's well being before your own)
Open-Mindedness (including incorruptable minds, 'alllowed you mind to be renewed by the Word of God', 'not losing the battles/wars of the mind to Lucifer & the rest of the satan pantheon', 'developing the mind of Jesus Christ', 'the Mind of Jesus Christ', etc.)
Warm/Kind/White/Soft/Big/Mended/Perfect-Heartedness/Mindedness
Dignity
Conservatism (including the Culture of Conservatism, conservative policies/politics, etc.)
Rightism (including the Right of every nation/country, right-leaning policies/politics, REAL conservatives, REAL Republicans, Anti-RINO / Pro-Conservative/Pro-America half of the Republican Party/Machine of all types [Pro-America, Pro-Conservative, Pro-Constitution, Anti-Slavery, Anti-Racism, Anti-Slander, Pro-Christianity, Anti-Islam, Pro-Israel, etc.] [including the Republican / Anti-RINO Wave], Paleoconservatism, 'language/strategies of the Right', Constitutional Republic, etc.); The anti-RINO have of the Right (see why on Seven Deadly Sins)
Patriotism (including True-Patriotism, American Patriotism, Israeli Patriotism, etc.)
Fairness/Fair-mindedness (including 'Fair & Balanced elections', Fair & Balance trials, 'doing things fair and square', etc.)
Un-Rigged / Un-Hacked Systems (Elections, Schools, Courts, government, etc.)
Clean/Fair/Honest/Balanced Elections
Nationalism / Anti-Globalism (including Pro-Americanism, Pro-Israelism, European Division, etc.)
1st-Worldism / Anti-3rd Worldism (1st-World Nationalism, 1st-World State/City, etc.)
Real News/Stories
Christianity (including Christianity Expansionism, praying to God & Jesus Christ, Building Churches [including Anti-Lucifer / Anti-Satan Churches], Fundamentalist Christianity, etc.)
Judaism (including praying to God & Jesus Christ & Rebuilding the Jewish Temple of God & Jesus)
Equality (including Racial Equality, Equal Application of America's Laws, Equal Protection Under the Law, etc.)
Wall-Borderism / Pro-Border Wall / Border Security / Border Wall Funding
Pro-Nationalism / Anti-Globalism Nations (Conservative America, Israel, South-Korea, Guatemala, Ireland, etc.)
Respect/Respectability (including National Respect, Self-Respect, etc.)
Integrity / Simplicity / Forthrightness / Anti-Fraud (including National Integrity, Border Integrity, Voter Integrity [including ''vote ONLY in person at the polling stations on Election Day", 'Not only do we need proof of income at the polling stations, Voter ID mandatory, & "eliminating ALL mail-in voting, but we ought to get RID of absentee ballot voting 100-MILLION% {except those who are serving in the USA military} & we must get rid of this early voting thing. You MUSTN'T have 30 to 45 days to vote, you must have 3 DAYS tops & I'd rather just have it 1 day to vote IN-PERSON at the polling stations!! That way we have BETTER, STRONGER, TOUGHER, SMARTER/WISER & MORE HONEST voter integrity & we DON'T have these issues with fake ballots or absentee ballots being THROWN in the garbage cans & showing up in people's trunks!! This is what we're up against & we've got to take this SERIOUSLY!! DON'T do early voting, DON'T mail it in & do it on Election Day', 'destroying mail-in ballots/votes', 'America is ENDANGER of a liberal/leftist takeover. The radical mobs are coming for the Republicans' Senate majority & we've got to STOP them! We've got to make sure that ALL Americans on the Right COLLECTIVELY show up at the polling stations ONLY on Election Day 2020 A.D. & give USA President Donald John Trump a resounding victory', 'Not only should we raise the voting age from 18 to 21, but each individual needs to have 2 voter IDs {one with a picture ID & another with PROOF of income}! You should have some SKIN in the game to vote. The bottonline is that if you're on EVIL welfare & use that as paycheck for years & YEARS & have more & MORE kids, you MUSTN'T be allowed to vote because you're gonna continue to vote for the democrats are that gonna continue to give you the handout. It's time to FOCUS all people to get OFF the government dole!!', 'The post office NEEDS to be DEFUNDED BEYOND 100% & the reason it does NOW is because of the mail-in voting fraud & what the Democrats are planning on doing!! If you defund the post office, it PREVENTS the Democrats from enacting their MASSIVE mail-in voter fraud schemes to steal the election & it FORCES ALL Americans who want to vote & want their voices to be heard to take their butts to the polling stations ONLY on Election Day & DO IT in person. The only Americans that should be voting by mail are 3 groups of people: American citizens living abroad, members of the military stationed abroad & those Americans with severe deficiencies & disabilities. But everybody else must vote IN PERSON AT THE POLLING STATIONS ONLY ON ELECTION DAY!!!! None of this 30-45 days garbage of allowing people to vote early; the longer you have to vote in an election, the more likely your vote WON'T be counted, due to voter fraud, to shenanigans, due to ballot-harvesting, due to ballot-stuffing, due to changing addressing or not counting certain areas or NOT sending ballots out to certain areas that were dominated by Republican voters! President Trump mustn't sign ANY bill at all under ANY circumstances that funds the post office! And the folks that want to mail in their votes, especially early, should have a color coordinated {red for military, green for those with disabilities & purple/violet for Americans standing abroad} & the ENTIRE envelope DOESN'T include party affiliation on the outside but has their name & address because there's NO other reason for anyone else to be able to vote early or vote by mail', 'DON'T mail in your ballots & DON'T vote early & NEVER vote online, but ALWAYS vote IN PERSON on Election Day ONLY at the polling stations', 'Voting Red {Anti-Communist Red}', 'People should NOT be allowed to vote until they're 25 years old because most people at age 18-24 are STILL fully reliant on their parents & believe that they should still be given everything for free', 'counting legal votes & NOT counting illegal votes', 'allowing election observers in the elections', REAL voter IDs, 'NT giving voter IDs away for free', 'Criminals, felons & illegals should NEVER participate in elections or get voting right', public / anti-secret vote counting, Election Regularities, 'Going back to HAND-written ballots/votes & HAND-counted ballots', 'We ALL need to change PERMANENTLY moving forward!! We need to go BACK to man-written ballots & hand-counted ballots!! We need to GET RID of these dominion voting machines & the George Soros machines altogether & start in a way that we can have FAIRNESS & integrity in the elections!! We're NOT gonna accept the Biden-Harris presidency & we will NOT have our DNA changed, no matter how they say that it's not mandatory!! USA President Donald John Trump needs to have a reception in America. The lying presstitutes in the media are all saying that dementia Joe Biden & phone Kamala Harris {D-California} are gonna take office, but they're NOT! We need to basically go out there & Trump NEEDS to lead America & Trump needs to go out there & start his rallies up again, restore the Republic rallies, go to the swing states, start doing these rallies & get over tens of thousands of people at his rallies & he needs to have the big screen jumbotron TVs & SHOW the voter fraud for ALL the American People to see!!!! Big tech & Section 230 need to be CRUSHED so that they be SUED by class-action lawsuits & go out of business!! It is to NO surprise that the party of socialists, war-mongers, 47 years of USELESS policies like both Joe Biden & Kamala Harris, & war in the Middle-East that they would CONTINUE to cause chaos, disorder, destruction & further along America into darkness {an abyss that we'll never recover from}. We must become a NATIONALIST nation once again for lovers of America', 'SO MANY layers need to be investigated, whether it's dominion, vote-switching, fractional voting, ballots being dumped in the middle of the night & Xerox copies of ballots that have to be overwritten', 'STAY AWAY from the "stay home & not vote" & the "feeling disenfranchise" mentalities', 'put limitations of both absentee ballots & mail-in ballots', etc.], Moral Integration, Structural Integrity, 'The integrity of the Word of God', 'exposing/investigating ALL types/kinds of fraud', Character Integrity, etc.): integrity is priceless & it gives people self-confidences & self-respect & it shouldn't be at stake
Altruism
Indulgence
Responsibility
Usefulness (including Really Useful)
Brotherly Love
Sisterly Love
Brotherhood
Real/True Evidence/Information/Narrative/Accusations
Real/True Facts/History/Documents/Records
Fact ('Logical/Fair Opinion based on Facts', True/Strong Facts, etc.)
Real/True Science (including Good Science)
Pro-Family (Parenting Mother [Grand Mother], Father [Grand Father], Aunts, Uncles and Children [Brothers, Sisters & Cousins])
True Marriage (Husband & Wife)
Songs of Nationalism/Patriotism (especially National Anthems) (including The Star-Spangled Banner, etc.)
True Constitutionalism (Pro-Constitutional acts/actions/speeches [including the USA Constitution, Constitutional Law & Order, etc])
Real/True Witnesses/Judges/Juries/Prophets
Good Information
Conservative/Christian/Pro-American/Pro-Israeli/Right-Leaning/Pro-Jew/Patriotic/Good/Anti-Establishment/Anti-Evil versions (of Laws, Rules, Remarks, Policies ['America/Israel First' policy, anti-destructive policies, 'Peace through Strength' policy, red-state politics, etc.], Agendas / Goals [the Trump Agenda & the MAGA agenda], Ads, Principles, Values, Mottos [In God We Trust], Movies, Shows, Promises, Control [self control {take better control of yourself & of your life}, 'people need to take better control of terrible people {the Left} & bad actors', etc.], Ideologies, Humor, Sacred, Cunning/Cleverness, Obedience [obeying ONLY God / Jesus Christ & NOT human or government. Obedience to God is SIMPLY following God's instructions, 'in the mind & spirit, they obey & trust the Law of God', 'Total obedience to God & NOT earthly government {God demands REAL obedience from us & we must keep ALL of Him laws/commands & NOT that of earthly governments controlled by the Left & the elites}, It's the only way to receive massive blessing from Him', 'Obedience to the Word of God', etc.], Spying, Mentorship, Arts, Speaking, Adaptability, Coaching, Persuasive, Flexibility, Events, Taming, Persistence, Communication, Image, Planning, Humor, Persuasive, Worth, Reason, Flexibility, Persistence, Understanding, Strategy, Presenting, Doctrine/Teaching [Sound Doctrines], Energetic, Initiative, Rhetoric, Logic, Optimism, Authority, Organizations/Organizing, Companies/Businesses, Literacy, Outlets, Values, Civil Rights, Character, Idealism, Rights [including unalienable rights], Defiance, Toughness, Focus, Piety, Majesty, Rejoice, Readiness, Purposefulness, Approval, Caring, Disapproval, Admiration, Resourcefulness, Openness, Industry, Fulfillment, Acts, Support, Imaginative, Desire, Accomplishments, Pleasure, Investigations, News, Devotion, Wrath, Music/Songs, Sympathy, Decision-Making, Problem-Solving, Social-Skills, Law Enforcement, Websites, Endorse, Protect, Progress, Relaxing, Questioning, Spontaneity, Agreement/Disagreement, Armed Security, Ideologs, Watchdogs, Administration, Compassion, Interrogation, Reboots/Remakes, Pity, Deprecation, Subpoena, Networks, Foundations, Movements, Terms, Intelligence, Operations, Happiness, Management, Social Media, Declaring, Love [the love of the Trump Administration, the love of America, the love of God / Jesus Christ, 'God told us to love others MORE than to love ourselves', Loyal Love, etc.], Counties, Immolation, Fun/Funny, Learning, Citizenship, Fury, Politics, Targeting, Counsel, Orderliness, Surveillance, Commercials, Conduct, Bills, Protesting, Force, Down-Playing, Sharing, Treatment, Campaign, Preservation, Free-Press, Cases, Bureaucracy, Tolerance, Documentaries, Crusade, Hiring, Proclamations, Intolerance, Movements, Narratives, Protests, Philosophy, Tactics, Working, Boycotting, Suing, Critics, Editing, Methodology, Force, Cunning / Intellect, Love, Hope, Control, Wrath, Rhythm, Willpower, 'Do-Something', Need/Want, Influences, Union, Respect, Diversity, Free [Free Speech, Free Choice, Free Thought/Thinking & Free to Worship God], Mutiny, Opportunity/Opportune, "Law & Order" [the Right's old order], Jobs [Anti-Green Jobs, 'businesses that NEVER support green jobs', 'Jobs that NWEVER go woke or cave to the radical Marxist Left', etc.], Sacrifice [not sacrificing people or nation], Revolution [meaning 'never starting a lawless Democrat-Marxist Revolutionist coup of America', 'the creation of the United States through the American Revolutionary War {1775–1783}', the Spanish American wars of independence {1808–1826}, the European Revolutions of 1989, The Haitian Revolution , Nat Turner's slave rebellion , The American Civil War {a contest between the anti-slavery Republican Party & the pro-slavery Democratic Party. It's more likely a war to END ALL slavery in America}, 'destroy this Marxist culturous cultural revolution', Industry revolution, Taking America Back {meaning making America strong, smarter/sharper & safe like it was back in the Lincoln, Trump, Reagan & Coolidge years}, 'fighting for freedom', etc.], political upheavals [meaning replacing BIG / liberal / leftist governments with small / conservative / right-leaning governments], Leadership, Perfect, Sharing, "Hell-Bent on & upon / Playing Hard Ball", Rebellion ['Rebelling against the Democratic Party', 'rebelling against the Left's tyranny', 'rebelling against big/tyrannical governments', etc.], The Goldilocks Zone, Encouragement/Encouraging [encouraging voter integrity, 'Discouraging voter fraud schemes / plots / plans', 'Encouraging people to be STRONG in God / Jesus Christ', 'encouraging people to live with the fear of God & NOT with the fear of humans', etc.], Accepting/Acceptance ["Blue {Police} Lives Matter," "All Lives Matter" and "MAGA" attire, 'caving in to the Trump agenda', 'caving in to the Right's agendas, intellect, truths & ideologies', etc.], Denial ['denying the Left's climate-change theories & fake promises', 'denying Satan's lies & that of the Left', etc.], Boycotting ['Boycotting Goodyear for caving in to the Black Lives/Lies Matter mobs', 'Boycotting Wal-Mart for selling China-made products', 'Boycotting woke corporations & schools', etc.], Retribution, Loyalty, Legal ['If George Soros isn't be stopped by a legal system brave enough to challenge his treasonous intellectual activities or he & his followers & descendants will continue promoting of installing puppet district attorneys across America, ensuring that EVERY neighborhood in America will soon look like Venezuela or worse', etc.], Heroism ["Heroism is self-sacrifice, it's not moralizing and lecturing over others when they disagree." "Heroism is grace, not perpetual outrage." "Heroism is rebuilding our communities, not destroying them." "Heroism is renewing faith in the symbols that unite us, not tearing them down."], Fate, Litigate, Positive, 'Greater Good', Revenge, 'Humanly Possible', Philanthropy, Hope, Preparatory, Humanism, Victory/Success [hard-earned victory, honest victory, anti-psychological victory, etc.], Winning/Success [winning FAIRLY, 'winning fair & square', honest winning, anti-psychological winning, etc.], Open-Mindedness, Mantra ['Reverse ALL of the Left's mantras & that of the elites & Democrats, for they're no better than the romans of pre-Constantine & post-Constantine eras & the days before & after the age of the 5 good emperors', etc.], Legitimacy, Unity, Protocols, Science ['protecting the unborn', studying about sex & gender', 'Imposing national lockdowns', 'Nuclear energy', 'studying about crime & police use-of-force statistics', etc.], Religion [Thanksgiving & Christmas are the holidays to give thanks to God for the blessings that He has done & given you. Christmas is celebrating the birth of Jesus Christ. These 2 holidays revolve around our faith. Love God instead of loving power], 'Get away with it', Diktat, Inquiry, Softness [having a soft heart, but always getting SUPER tough on ALL crime, including organized crime], Diversity ['Telling America's schools that you & I want Diversity of Thought in education', etc.], Freedom/Liberty, Honor/Honorable, Willfulness/Willingness, Gentrification, "right time, right place & right person", Punitive, Moral Compass ['traditional Western & Judeo-Christian categories of good & evil', 'evaluating people and nations on the basis of right and wrong or good and evil' & 'judging people's actions by the same moral yardstick – that of good & evil'], Coincidence, Friendship [friendship with God & Heaven], Dependence / Reliability ['depended on God / Jesus Christ & NOT government', 'relying on God & not people', etc.], Independence [independence from tyranny & governments {especially tyrannical / so cialist / communist governments / countries}], Traditions/Culture [traditionally festive Christmas & Thanksgiving holidays], Boldness/Daring/Guts, 50-50 [when it comes to splitting the money for a equal amount of money to share, fair & square in fact], Desire, Trust, Reset ['resetting America back to the way the Right & the Founding Fathers want', 'FORCING the Washington DC politicians to listen to us {the Right & the American People}', 'defying ALL of these unconstitutional edicts & orders from liberal/leftist/Democratic governors/mayors', etc.], Populace, Normalcy, 'Force of Good/Will, Shadow Government, Coup/Conspiracy, Resistance [taking rage/attacks & complaints against the totalitarian Left & the anti-America / anti-Israel elites {Democrat, RINO, career politician & bureaucrat}], Science, Mathematics, 25th-Amendment, Benefit, Control ['keeping government from getting out of the Right's control', 'I wish that God / Jesus Christ has better, STRONGER, GREATER control over mankind than Satan/Lucifer & earthly rogue/tyrannical/out-of-control/corrupt governments ever would', etc.], Infiltration ['We, the Right, have to infiltrate the same way the Left have done to us as PAYBACK!!', 'We must take America BACK from the Left', etc.], Trapping, First Amendment, Life, Choice/Decision, Words, Testimonies, Congregation, Timing, Calculating, Understanding, Interpretation, Incitement, Punishment ['the punishment for ALL sin is death', 'The punishment for gossiping & tell lies is suffering', etc.], 'being anti-racism', Perspective, Truth, Good Intentions, Game Plan, Human Rights, Reconciliation, Justice, Humanity, Inclusion, Equity, Words/Definitions, Neutrality [meaning 'keeping the supreme court & Washington DC neutral in both God's eyes & that of the Right', & 'keeping the Intel community, medical community, scientific community & academia community anti-woke, anti-crime, etc.' for example], Session [We, the Right, need to have a virtual session because the TRUE racists are the Left & the Democratic Party; THOSE are the true racists & they are ALL racist, & it's DISGUSTING & ABHORANT!! What EVER happen to treating everybody the same?!! The Left want to be DIVISIVE & it's THEM doing it & class warfare!!! And NOW that they have the corporations HELPING them do it, it's SICK where we're at as as country! These people DON'T want to bargain with, they don't want to be bipartisan, & they don't want to share their values with us or share America with us, because our values are SO different from the FAR Extremist Radical Left & we CAN'T LIVE with them anymore. They TURNED the United-States of America into the DIVIDED States of America & THIS is the Left's making, not the Right's! They want communism, socialism & Marxism; while we want freedom, liberty & prosperity!! This whole "love your enemies" thing coming from Jesus Christ TRULY is nothing but an UNGODLY CRUEL & SICKLY TWISTED JOKE/FARCE!!!], Healing, Orthodoxy, Libertarianism, Truism [a statement that is obviously true and says nothing new], Indictment, Goodness, Wisdom [NEVER outsmarting God {who created the WHOLE universe/omniverse} or the Right, but ALWAYS trust God {ONLY} & obey him], Context, like-mindedness, Saints, Right Time/Place, 'awarding/rewarding people', curriculum, Language, Guidance/Leadership, Conversations / Communications, Bipartisanship, "See something, say something", Insight, Inspiration, Persistence [with the power of God, remain persistent AGAINST the persistence/attacks of Satan], 'going green / saving the planet', 'saving/restoring/preserving wildlife & animals', Generosity/Charity, the Light/Life, Reforming, Patriotic/Constitutional Duty, Infrastructure, Engineering, Passion/Compassion, Emotion, Bipartisan, Saving, Appearance, Abolition [abolishing abortion, abolishing slavery, abolishing voter fraud, abolishing mail-in-voting, abolishing deception, abolishing propaganda, abolishing indoctrination {including critical race theory, critical pace theory, 'self-hatred', etc.}, abolishing Kangaroo Courts {including the 2-teir/3-teir justice system}, abolishing the fear of man/government, abolishing Satanism & idolatry, abolishing the evil {including fear, lust, ignorance, etc.}, abolishing Anti-Semitism, 'getting politics & race & wokeness out of sports, science, issues, schools, corporations, etc.', etc.], "In the Name of", Requests, Deforming [deforming America & its cities & systems/foundations/institutions of both crime & sin {including liberalim, leftism, stupidity, egotism, socialism, communism, lying, deception, voter-fraud, indoctrination, mind-control, infiltration, plotting/scheming, etc.}], Preparedness [like 'being prepared to meet God & the second coming of Jesus Christ. God takes the things that humans & spiritual beings watch VERY SERIOUSLY. Your works WILL be tested by fire & your secret/hidden actions/thoughts WILL be brought to to the limelight. It'll be disastrous to meet God & his judgement unprepared', etc.], Service, 'Weapons of Choice', Pure [meaning pure goodness/light, pure godliness, etc.], Positivity, Negativity [saying things negative about the vaccines & the mask mandates], Celebrations, Choices / Decisions, Personality [like the personality of both God, Jesus Christ & the Holy Spirit], Truce, the system, Charisma, Apostasy [abandoning the Left's own religious / political belief, while NOT abandoning God or the Right's religious / political belief], hard work, Good/Goodness, Natural, etc.)
Works of Mercy:

Doing Good[27]
Visiting the Sick and Prisoners[27]
Feeding and Clothing People[27]
Earning, Saving, Giving All One Can[27]
Opposition against Slavery[27]
Corporal Works of Mercy:

To feed the hungry.
To give water to the thirsty.
To clothe the naked.
To shelter the homeless.
To visit the sick.
To visit the imprisoned, or ransom the captive.[20]
To bury the dead.
To care for creation.

Spiritual Works of Mercy:

To instruct the ignorant.
To counsel the doubtful.
To admonish the sinners.
To bear patiently those who wrong us.
To forgive offenses.
To comfort the afflicted.
To pray for the living and the dead.
To contemplate God's creation.

Transparency
Wholeness/Wholesomeness
Anti-Temptation
Diversity (of thought, speech & ideas) (including Sexual Diversity, etc.)
Non-Attachment
Sobriety
Authenticity
Counsel
Non-Governmental control/acts
Fear of the Lord God (including His Son Jesus Christ) / Not Fearing Humans
Worthiness
Jesuism
Politeness
Grace/Graciousness (including Social Grace, 'the Favor/Grace of God', etc.): it is the grace of God that gets us through the door & it's that that keeps us in His kingdom. God saved you & me with His Love & Grace. An we CANNOT take credit for this!
Good-Manners/Behavior
Morality (including National Morality, Sexual Morality, etc.)
Inexcusable Version of National Security
Confidence
Industriousness/Hardworking
Courtesy/Courteousness
Sagacity
Practical
Maturity
Well-Meaning
Calm-Natured
Quaint
Smoothness
Gentleness
Piety
Empathy
Cautiousness / Carefulness / Safety
Good Reason (including Anti-Political Reasons)
Lawful Conduct
Godliness/Holiness (including keeping the Holy Bible & removing the Quran)
Real/True Witnesses/Judges/Juries/Prophets
Law-Abiding
Being Under the Law/Code/Rule
Religious Principles
Bringing God / Jesus Christ Back in America/Israel
Glory (including the Glory of God)
Anti-Misjudgment
Selfless-Serving
Growth (including Job Growth, Economic Growth, etc.)
Sovereignty (including Sovereign Nations)
Political Incorrectness / Anti-Political Correctness
History/Document/Records-Preserving/Saving/Recording
Exorcism
Teamwork/Togetherness
Citizenship (including American Citizenship, Israeli Citizenship & entering the country legally)
Trustworthiness
Inclusion
The Rule of Law
Believing/Belief (especially believing in God, Jesus Christ & the Holy Ghost/Spirit; not believing the lies but believing in truth)
Flag-Preserving/Saving (National Flags, Christian Flag & the American Flag)
Jolly/Jolliness
Prowess
Well-Being
Franchise/Accountability
Strength
Strong Leadership
Strong Work Ethics
Flawlessness
Gallantry
Overcome Failure
Hospitality
Spirituality
Chivalry / Chivalric Code
Independence (including Independent Journalists, Independent thinking/speaking, thinking/speaking freely, etc.)
Thorough (being Thorough or Slow to Judgment)
Optimism/Optimistic
Good-half of Dependence/Dependability (ONLY on God & NOT on government or its handouts)
Good-side of Curiosity
Good-side of Selling/Buying/Spending
Upliftness
Freshness
Fast-Walk / Fast-Rolling
Proper Listening
Proper Hearing
Animal-Life / Human-Life Preserving/Protecting/Serving (this includes child saving, Protect School Kids, etc.)
Obedience (to God & Jesus Christ & the true Founding Fathers of America) (including obeying the 10 Commandments, obeying/following the USA Constitution & the Declaration of Independence, obeying the 13 Principles of Jews Faith)
De-brainwashing
Conservation (also Anti-Wastefulness)
Closed-Borders / Pro-Border Wall (meaning caring about the safety & security of the nation & its people; including Closed-Border policies, etc.)
White/Light/Good Magic (including White Arts & Mysticism)
USA Constitution & its Amendments:

Bill of Rights:
11: Judicial Limits; Suits Against States
12: Choosing the Right President & Vice President; Election of USA President
Reconstruction Amendments:

13: Slavery, Involuntary, Manipulation (especially on reality), Brain-washing / Mind-Control & Bank/Tax Fraud/Increase Abolished
14: Citizenship Rights; Rights Guaranteed: Privileges & Immunities of Citizenship, Due Process & Equal Protection
15: Race No Bar to Vote (never force people of race, religion & nationality to vote evil; And never do ballot-vote/election/data-harvesting); Rights of Citizens to Vote

16: Status of Income Tax Clarified; Congress shouldn't be taxing Americans in any high levels nor raise our taxes
17: Senators Elected by Popular Vote; Popular Elections of Senators
18: Liquor/Alcohol, Drugs, system/agency-rigging, corruption/evil & Voter/Election/Tax Fraud/Meddling Abolished
19: Women's Suffrage (Never rape anyone); Women's Suffrage Rights
20: Presidential, Congressional Terms; Terms of Presidents, Vice Presidents, Members of Congress: Presidential Vacancy
21: Protect & Preserve Human Life (including the life of the unborn) & never do Abortions & NEVER be pro-choice
22: Presidential Term Limits; Presidential Tenure
23: Presidential Vote for Washington DC (District of Columbia); Presidential Electors for Washington DC
24: Poll Tax Barred; Abolish of the Poll Tax Qualifications, bribes, taxations, illegal votes & Illegal Immigration in Federal Elections
25: Presidential Disability & Succession; Presidential Vacancy, Disability & Inability
26: Voting age set to only at 18 Years of Age or older; And abolish both visa lottery, early voting, mail-in voting, ballot harvesting, out-of-state / out-of-nation voting & chain migration. But 18-year-olds should NOT be allowed to vote & that we should RAISE the voting age to 21 or 25. keeping people under the age of 21 or 25 from voting, no matter what color their skin is
27: Limiting Changes to Congressional Pay; Congressional Pay Limitations

Self-Control / Sternness
Decency
Common-Sense
Anti-Taxation (including Tax-Decrease, Tax Cuts, & Expense Decrease)
Bible Reading/Studying/Recording
Pro-Jews
Cures / Anti-Illness / Anti-Sickness / Anti-Disease Organizations
Red State/Waves
Happy Beginnings/Endings
Manhood (including Manliness)  
Vigilance (including Eternal Vigilance) (The Price of Liberty)
Womanhood
Anti-Suppression
Anti-Oppression
Healthiness
Fore-Thought
Calmness/Sober/Tranquility
Good side of Sympathy
Positivity
Conservative/Christian Voices
Insight
Detachment
Zeal
Restrain/Restraint
Resourcefulness
Sensitivity
Purposefulness
Vitality
Tranquility
Thankfulness
Resisting the Devil
Desiring Virtuous Ways
Authenticy
Excellence
Commitment
Tact/Tactfulness
Contentment
Assertiveness
Adaptability
Acceptance
Randomness
Confidence
Consideration
Determination
Devotion
Discernment
Asceticism/Discipline (including Self-Discipline)
Forbearance
Frugality
Impartiality
Magnanimity
Meekness
Tolerance
Moderation
Punctuality
Simplicity
Thrift
Encouragement
Hating Evil
Hearing/Following/Loving/Desiring/Speaking Good
Repenting
Beauty
Consideration
Passionate
Preparedness
Cooperation/Cooperativeness
Tenacity/Tenacious/Tenaciousness
Enthusiasm
Anti-Political Motivation
Temperate
Visionary
Pro-America / Pro-Israeli Principles (Conservative / Right-leaning / Christian)
Conservative / Right-leaning / Christian News/Stories/Narratives
Giving more than you or I/you can take
Anti-Conspiracy / Positive News/Stories/Coverage
Veracity
Salvation (through Jesus Christ)
Magnificence
Magnanimity
Right-leaning Judgment
Gravity
Dutifulness
Good Temper
Contentment
Continence/Continency
Good Sportsmanship
Unpretentiousness
Autonomy
Conscientiousness
Discernment
Endurance
Fidelity
Helpfulness
Impartiality
Individualism (Individual countries, Individual Freedom, Individual governments, etc.)
Intuition
Inventiveness
Mindfulness
Nonviolence
Philomathy
Potential
Remembrance
Resilience
Reliance (including Self-Reliance)
Solidarity
Stability (including National Stability, etc.)
Subsidiary
Thoughtfulness
Selfless Assistance
Authority (including Spiritual Authority)
Real Note-Taking
Privacy Protection
Ownership
Right View
Right Mindedness
Right Concentration
Relief
Acquiescence
Apprehension
Wariness/Awareness
Delight
Sentimentality
Perfectionism
Religious Cleansing
True Baptism (especially being baptize while/after believing in Jesus Christ)
Protecting God's Children (along with other opposites of the ones on the article about the 7 Deadly Sins)
Self-Defense / Selfless Defense
Anti-Excuses
Selfless Importance
Anti-Omnibus
Charming
Seriousness
Play Fairly (never lie nor cheat)
Fox News Channel/Radio
Fox Business Channel/Radio
Conservative/Right-leaning Talk Radio/TV
Comfort
Republic (including American Republic & Constitutional Republic)
Democracy (including American Democracy)
Civility (including Right-leaning Civility, etc.)
Permission
Consent
Mildness
Benignity
Longanimity
Strong Laws & Rules
Transcendence
Vitality
Self-Regulations
Learning more
Perceptiveness
Anti-Obstructionism
Upstanding
Concern
Earnest
Leniency
Propriety
Probity
Impartiality
Orderliness/Organizing
Being Nice
Anti-Political / De-Politicizing
Brain-Growing
True Heartfulness
Uncovering/Digging-up Real/True Stories
Love (including True Love, Affection, Anti-LGBTQ, Anti-Inbreeding, Loving America, Unselfish Love, etc.)
De-Poisoning / Anti-Venom
Anti-Discrimination
Legal Voting/Supporting/Endorsing
Strong Immigration System/Laws (including Merit-based immigration, etc.)
Voting Trump/Reagan style Republican/Conservative & not voting Democrat/RHINO/Liberal
Pushing to the Right directions/choices (especially nations, etc.)
Capitalism / Pro-MAGA / Pro-MAKA / Pro-MIGA / Pro-KIGA (including American Capitalism, European Capitalism, 'destroying all social welfare programs', Anti-Woke Capitalism, Free-Market Capitalism, etc.): The pursuit of profits has fueled many of mankind's greatest innovations and greatest companies. It led Elon Musk to build electric cars, Andy Grove to design computer chips, and Reed Hastings to develop the world's most popular streaming service. Everything from aspirin to commercial airplanes, to yes, solar panels and wind turbines came about because of the desire for profit. Profit is why you have a job, clothes, a house, food, and every other necessity, not to mention luxuries. It's the reason why you can live in Phoenix and stay cool, or live in Buffalo and stay warm. The genius of capitalism is that it requires businesses to do good things for society to make a profit. Think about it: "If you want to start a business—whether it's a dog hotel or a shoe factory—you'll have to create a product or service that helps others—at a price they can afford. If you want to hire employees, you'll have to offer attractive wages and safe working conditions. Otherwise, nobody will work for you. If you want customers, not only will you have to make a good product, but you'll need to cultivate a good reputation. That means treating those customers well and offering competitive prices. In a free enterprise system, you can't make money without providing a social good. Capitalism is, by its very nature, conscientious. It turns out, then, that profit isn't selfish—it motivates us to contribute our talents to help others". In capitalism, there is a simple metric to determine success: how much money you're making.
Enhanced Interrogation Methods
Anti-Socialism
Free-Market (the market that's not controlled by the government)
Anti-Regime / Anti-Appeasement / Anti-Dictatorship Organizations
Pro-American Expansionism (including the true documents, Values & teachings)
Pro-Israeli Expansionism
Anti-Corruption / Anti-Bias Organizations
Anti-Criminal / Anti-Taintedness Organizations
Anti-Soros / Anti-Alinsky / Anti-Clinton / Anti-Obama Organizations
Anti-Scandal / Anti-Scam Organizations
ICE (Immigration & Consumer Enforcement)
Anti-Media / Anti-MMFA
Christmas/Easter Music
Pro-Coal / Pro-Oil / Pro-Nuclear Energy Organizations/Companies
Remembering all the time
Anti-Rigged Communities
Anti-Rigged Systems (School, Judiciary, Election, etc.)
Anti-Rigged Biography/History
First Respondents
Harding School Security
Properly Good Trade Deals
Anti-Abuse
Anti-Liberalism / Anti-Leftism Organizations/Values
Anti-Terrorism Organizations
Real American/Christian Holidays
Anti-RHINO / Anti-Democrat Organizations/Values
Anti-Gang Organizations
Real/True Interpretation/Representation
True/Real Security
Inspiration
Anti-Leaks
Anti-Propaganda / Anti-Redaction Organization
Anti-Murder
Quick-Thinking
Anti-Kneeling (Only take a knee after the playing of the games just to prayer to God & Jesus Christ)
Anti-Bestiary
True-Gender (Male & Female)
Anti-Sharia Laws
Anti-Heinous
The 3 Proper Rs (Reading, Writing & Arithmetic)
Good Deeds (including Anti-Misdeeds, Heroic deeds, etc.)
Anti-Manipulation
Anti-Spin / Anti-Twistedness
True Oaths
Submitting to God / Jesus Christ & not to Lucifer/Satan
Anti-Activist / Pro-Constitutional Judges/Juries/Politicians
Anti-Hacked / Anti-Rigged Websites/Internets/Organizations
Sanity
Calling Evil Evil, & Calling Good Good
Good Purposes (including Conservative Purposes, Anti-Political Purposes, etc.)
Anti-Political / Anti-Smear Campaigns/Machines
Anti-Gossip
Pro-NRA
Anti-IRS
Anti-Vandalism
Anti-Atheism
Anti-Islam
Anti-Redaction
Anti-Malpractice
Anti-Injury / Anti-Pain
Protecting Monuments/Memorials (including Confederate/Union Monuments & Memorials of fallen American Heroes)
Spirits of America's True Founding Fathers
Worshipping God / Jesus Christ & Not Worshipping Humans, demons, or government
Anti-Plagiarism
Anti-Porno
Pro-Veterans / Pro-Military
Good/Clean/Clear-Mindedness
Waking Up (psychically & spiritually waking up & staying awake. We got to wake up conservatives & tell them to STOP using as many WOKE companies as possible, even if it means using the Left's Human Rights Campaign AGAINST them)
Good Medicine
Declassify
Opened-Door Meetings
Right/Good-Doing
Receiving the Mark of God & not the mark of the beast (that takes on many shapes, sizes, forms, & languages)
Cool/Level-Headedness
True American/Israeli Way
Anti-Deformity
Good/Fair Trade Deals
Good Luck / True Fortune
Anti-Bigotry
Not Taking Anything for Granted
Protecting/Saving True Childhood Memories
Anti-Violations
Dictionary/Thesaurus
Less-Regulations
Anti-Brat
Anti-Cannibalism
Clean/Fair/Honest/Good Negotiation
Equal Protection Under the Law
Anti-Sanctuary Cities/States
Entering the Countries Legally
Sovereign Nations (United-States of America & Israel)
Not Switching Arguments
Act out of Faith
Good Weather
Better/Good Decision-Making
Smooth Skin
Swallowing things the Right Way
Not Taking a Knee
Being Paid Equally
True Ancestry
Child-Caring
Anti-Pimple
Standing for the American/Israeli Flag & National Anthem & during the Pledging of Allegiance to the USA Flag
Answering Questions Correctly
Answering Real/Tough Questions while Not Answering Wrong Questions
Anti-Hippy
Anti-Radical
Anti-Sham / Anti-Rig / Anti-Hoax
Working Class
Doing the Right/Correct Job (especially in the True American Way)
Not Bring Politics into Anything (sports, entertainment, music, etc.)
13 Principles of Jewish Faith:

Belief in the existence of the Creator, who is perfect in every manner of existence and is the Primary Cause of all that exists.
The belief in God's absolute and unparalleled unity.
The belief in God's non-corporeality, nor that He will be affected by any physical occurrences, such as movement, or rest, or dwelling.
The belief in God's eternity.
The imperative to worship God exclusively and no foreign false gods.
The belief that God communicates with man through prophecy.
The belief in the primacy of the prophecy of Moses our teacher.
The belief in the divine origin of the Torah.
The belief in the immutability of the Torah.
The belief in God's omniscience and providence.
The belief in divine reward and retribution.
The belief in the arrival of the Messiah, Jesus Christ, and the messianic era.
The belief in the resurrection of the dead.

The Love of God & Country
Lifting our Hearts & Prayer
Making our voices heard
Standing up & defending what's really Right
The Law of Love & Liberty
Turning backs upon the Left
Declaration of Independence
Human Rights
One Nation/Empire Under God & Jesus Christ
Correct/Right
Setting the Record Straight / Correcting the Record
Originalism (including Originalist judges/juries, etc.)
Textualism
Constitutionalism
0 Crime
Anti-Appeasement
Anti-Monetization
Justifying Real Good & Never Justifying Evil
Anti-Plantation
Anti-Hitlerism / Anti-Stalinism
Never Mouth-Pieces
All Action & No Talk
Anti-Weaponization of Everything (Intelligence, Justice System, Legal systems, etc.)
True Holidays (Christmas, Easter, Halloween, Hanukkah, Valentine's Day, Thanksgiving Day, Mother's Day, Father's Day, Veteran's Day, Memorial Day, Columbus Day, etc.)
Anti-Meddling
Anti-Puppetness
Melted-Heartedness
Following our Hearts & staying true to them
Never take away the fruits of other people's labor
Preserving/Keeping Real/True History (Pro-America / Pro-Israel) / Religious (Christian) Books/Films/Documents while burning fake ones
Real/True Proclamations/Policies
Anti-Cabals
Need
Enjoying the Real Fruits of Our Real Labor
Anti-Pestilent
Anti-Pestering
Pure Mindedness/Heartedness
American Expectionalism
Israeli Expectionalism
Flawless/Limitless Godly Cunning/Wisdom/Intellect
Anti-Toxic Masculinity
Conservative/Right-leaning/Capitalist/Constitutionalist Tactics
Anti-Smuggling
Constitutionalist Party
Republican/Constitutionalist Votes
Saving/Preserving America & Israel (especially from the inside & outside)
Anti-Loopholes
Calling Right 'Right' & Wrong 'Wrong'
Stronger Merit-based Immigration Systems / Extreme Vetting (Stopping Illegals of all types from entering America & Israel)
Anti-Sophistry
Anti-Complicity
Philanthropy
Skepticism
Perfection (Perfect Life & Perfect Humans in the sight of God & Jesus Christ)
Positive Headlines
Waking-up Early
Anti-Totalitarianism
Anti-Veganism
Putting God & Jesus Christ back into everything America & Israel are all about
The Seal of God / Jesus Christ: 777
Real/True Information (Anti-Misinformation & Anti-Disinformation)
The Law of Moses / The 613 Commandments
Judging based on merit/character, deeds/actions & the color of our hearts & souls
Anti-Authoritarianism
Incorruptible Seeds
Anti-Utopia / Anti-Utopianism
Getting Apolitical / Nonpolitical / Anti-Political
Unredactions / Anti-Redactions
Broad-Mindedness / Big-Mindedness
Not Taking Things for Granted
Backbone
Small Governments
Small Tech
Legal Immigration (including closing up all loopholes, being border walls, ending illegal immigration, ending chain-migration & VISA lottery, etc.)
Electoral College
Goodness/Sanctity
Balance/Reasonable
Anti-Dystopia / Anti-Dystopianism
Industrialism (excluding abortion & smuggling/trafficking)
Being Fair & Balanced
Anti-Cartalism
Humaneness
Benignity
Kind-Heartedness/Tender-Heartedness
Thoughtfulness
Good Behavior
Good Deeds/Works
Works with Faith & Faith with Works
Do-Something
Fair-&-Square
Nondiscriminatory/Anti-Discrimination
Equitable
Unprejudiced
Hard Labor
Nonpartisan/Nonpartisanship
Fossil Fuels (including coal, oil & gasoline)
Free & Open Society
The Golden Rule: (In Matthew's gospel, Jesus Christ [the true Son of God] summarizes the whole of the Old Testament in a single phrase: "Do unto others as you would have them do unto you." This maxim, known as "the golden rule" of ethics, is sometimes portrayed as an exclusively Christian concept)

One should treat others as one would like others to treat oneself (positive or directive form)
One should not treat others in ways that one would not like to be treated (negative or prohibitive form)
 What you wish upon others, you wish upon yourself (empathic or responsive form)
Treat others the way you want/need them to treat you, because you are ALL (created) equal

Right is Right & Wrong is Wrong
God / Jesus Christ killing the satan pantheon / 7 rulers of Hell (led by Lucifer / Satan) & all the demons, devils, fallen-angels, evil/demonic ghosts/entities, evil/dark ones/entities & anti-gods at a moment's time
Defending the borders or the USA Constitution. Caring more about the fate of America & Israel. Make America a better place & keeping America great. Protecting America, standing for justice & protecting innocent lives
Never caring about power, money, manipulation or politics
Powerful/Infinite Good/Virtue/Light/Purification
Good or Anti-Evil Cunning-Intellect / Cunning-Intellectual Good / Good Intellectual-Cunning / Intellectual-Cunning Good / Good Sapience / Sapient Good / Sentient Good / Good Sentience
Never living in a Fantasy Land / Upside-Down World
Good Mortality (including Morality viewing, 'if you stop looking into sexual sin, you can control & overcome lust', 'our moral values [traditional American moral values & Judeo-Christian traditions]', etc.)
Desegregation
Fossil-Fuel & Logging Industries
Ethical Landlord
Omniscience (Good / Anti-Evil / Anti-Ignorance version)
Superego
High/Higher/Increased-IQ
Good/Right/Smart/Anti-Evil Choices/Decisions
Not spying on real American Citizens or real Israeli Citizens
Good Thing
Purifying / De-poisoning / Uncorrupting the hearts, minds, souls/spirits, bodies/strengths, personalities & intellect of all sapient / sentient / intelligent species/beings (both mortal & immortal)
Never Let Your Guard Down
Never Put God to The Test
Living by Every Word that God & Jesus Christ Speak
Good Customer/Community Service
Compliment
Physical / Spiritual / Psionic / Psychological (including psychic, emotional, mental, etc.) Good
Good Sportsmanship
Frankness
Anti-Connive
Humans Following God's Definitions of Good & Evil
The Worship of God & Jesus Christ
Strong-Mindedness
Strong-Heartedness
Pure/Strong Soul
Undistorted Words/Reality
Anti-Woke
Individualism
Never Justifying Evil
Appealing to the Best
Spreading God's Goodness
Abundance/Prosperity
Anti-Coups
State Success
Anti-Sheepale / Anti-Sheeple (people who are very smart & not meant to be manipulated or lied to)
Never Lacking Knowledge (physical, spiritual, psychological, intellectual & mental [emotional, psionic, & psychic]) & Don't be Ignorant
Real Religion/Worship (especially 'Worshiping God, even through Jesus Christ', 'never worshipping slavery or power', etc.)
Creative Anti-Destruction / Anti-Destructive Creation
Seeds of Goodness being planted/embedded & Seeds of Evil being removed/destroyed
Anti-Evil Inheritance / Inherently Anti-Evil
Anti-Political Intimidation
Poison Immunity / Venom Immunity
Clear Thinking
Thatcherism
Anti-Political Opportunism
Conformity
Humaneness
Anti-Stupidity / Anti-Ignorance (Fast-Thinking, 'anti-Idiocy', Quick-Wittiness, etc.)
Private Section Business
Anti-Recession
Anti-Secession
Good version of Deflation (governmental deflation, bureaucratic deflation, etc.)
Anti-Mandation (anti-mandated vaccines, etc.)
The Word of God
Child of God (psychologically/mentally/psychically, spiritually/supernaturally, physically, biologically & inherently)
Tamed Tongue/Tone (it should be used to bring glory to God, to preach the gospel & to teach God's Word. It should be used to encourage & exhort believers. But the Untamed Tongue/Tone doesn't do that & even if it does, it will quickly slander, gossip, curse & tear down & even lie. And lying is one of the main sins that grieves the Holy Spirit. We must bring that small member of our body into subjection to God if we ought to take forward strides with God)
Anti-Sicknesses / Anti-Diseases (Physical, Psychological/Mental, Spiritual/Supernatural, & Biological)

Anti-Deafness ('Americans can CLEARLY see the ones who are paying attention & are NOT brainwashed by Black  Lives/Lies Matter BS. They can CLEARLY see that night after night, the violence is started by the Left, PERPETRATED by the Left & is CONTINUING by the Left & these Antifa / BLM thugs!! We're gonna find out whether or not the American People truly want the police defunded & their neighborhoods to resemble every single s***hole city run by Democrats in America. I hope that they speak LOUD & CLEAR & want something that is the opposite of the Left's ideologies/agendas', etc.)

Putting on Listening ears & a listening body

Not wearing masks all the time (except when you go to a surgery room) because it can weaken you immune system
Hydroxychloroquine: the cure for malaria & COVID-19, AKA, the China-originated coronavirus.
Herd Immunity
The Mind/Thoughts of Jesus Christ: It's the mind that attacks ALL negative thoughts/thinking & sinfulness. It even helps us renew our relationship with God & Jesus Christ.
No Vaccines
Constitutionalism/Republican Mentality
Good Health
Healthiness
Anti-Degeneration (Conservative / Right-leaning DNA, etc.)
Pry-Opening the psychological/spiritual eyes & hears of human hearts & minds to make people see, hear & believe the REAL truth, especially the truth that comes from both God & the Right
Having a Calm body/soul
Fighting/Battling/Killing the demons/evils from within
STOP letting fear control your life & stop fear take over your faith (NOT faith in government but faith in God / Jesus Christ / the Holy Spirit of God)
Anti-Derangement
Good Diet / Not Eating Badly
Anti Mental Disorders

Anti-Malfunctioning Minds

Flawless Memory: remember God who took us through our past
Always guards your heart & mind

Fighting Narcissism
Stray from the worship of governments
Don't live your life in sin or the "Adam & Eve" Syndrome

Seeing in the spirit & not in the flesh
Avoiding/Destroying the urge to do Bad/Evil & stupidity/ignorance
Using indoor voice indoors & not behaving like a wild/crazy person
Being tested negative of any disease
The Cure for the "Adam & Eve" Syndrome: Take responsibility for yourself & NOT point the finger at others for the fruit of YOUR choices. We must learn to take responsibility for OUR actions & our OWN people/children, not just for those times when we are right but also for when we are wrong. He must follow the examples of Jesus Christ & give NO more to the "Adam & Eve" Syndrome. NEVER allow Satan to fool you, especially in a way that he fooled Eve. Honor YOUR commitment, because ALL choices have consequences & at monumental proportions. Keep your eyes of Jesus.
Living/Anti-Seared Conscious/Conscience: NOT allowing sin or the planet to shape their conscious. Have your conscious be shaped by the Word of God.

Good / Anti-Evil Practices
Worry-Free
Uncovering Sin
Stop Sinning
Good Will
Impartiality
Self Control
Be Serious
Positive & Anti-Destructive Qualities: those are the thing we need to enter into our personalities. We've got to keep a sharp eye on the negative & destructive qualities & do everything we can to stop the spirit of pride from getting a foothold & a grip into our personalities
Ways To Defeat/Destroy The Devil:

Protecting the Human Mind:

God will protect the human heart & human mind. So guard you minds from satanic intrusions the same way Job did
Cleansing our minds & hearts from evil thoughts with the blood of Jesus Christ
We need to identify between an open door from God & a snare from Satan/Lucifer. We need to also get acquainted with God's ways & how we operate. Every good things comes from God, but not everything that looks good is from God or of God. Some of the supposed good things are Satan's beautifully embellished & wrapped gifts that put on godly appearances. The Devil IS the deceiver & will aim to deceive you in your live. That is why need to be spiritually alert & discerning to be able to truly recognize God's gifts when they come our way. Take time to see God's face & He'll answer your prayers & give you the RIGHT directions.
We must Diligently guard our hearts & minds from the lies & deceptions of Satan the devil king
Seeking God while He may still be found meaning repent of your wicked ways & letting go ANYTHING that God hates by stopping to have anything to do with it.
In order to stop Satan the devil king from entering our lives, we must close ALL 5 spiritual doors that he gains access to

Run away from sin & Satan
NEVER seek alternatives (bad/liberal/leftist ones): never separate yourself from God's love & NEVER go to the ways of evil to get things done

Guard your heart & mind from Satan in the same way Job & Jesus Christ do
You must NEVER eat with sin, play with sin, laugh with sin or escape the death that comes with sin. Stay the heck AWAY from being naïve, because sin isn't a joke or something that you can stroll into & then stroll out of. Always run from sin, no matter how far strong it is.

Here are 4 ways to recognize whether those gifts & open doors are from God / Jesus Christ or not:

1) We can know if a door is opened from God & not from the Devil-king through spiritual discernment
2) Through ensuring that the door doesn't oppose God's word
3) The door provides us peace (meaning REAL peace & "peace through strength" & NOT "peace through tyranny") through God's grace
4) The door is a channel so that your light may shine

Stick with Christianity/Judaism & Stay Away from Practicing Evil & Other Religions
Resist him & his temptations
When the devil puts thoughts & lies into your head & ears, Hang up on him. Talk with God / Jess Christ 7 Lucifer/Satan will flee
Never fall for him tactics (especially for false messiahs/prophets that will perform signs & wonders of miracles to deceive you)
Understand that you must be armed with the FULL spiritual/psychological Holy Armor of God at all times & be resolute against Lucifer/Satan the devil king whenever he surfaces.
Block out Satan's lies, but NEVER block your prayers or God's Words/Blessings.
To Stop Resisting The Holy Spirit of God:

We need to razor-sharpen our ability to hear the voice of God, Jesus Christ & the Holy Spirit
We need to RESIST the spirits of pride, stubbornness, boast & proud. God resists the proud but never resists the humble. God ALONE is worthy of receiving honor, glory & praise, but pride attempts to STEAL the glory of God. Pride (the 1st sin ever to be committed) has NO place in our lives!!!
NOT Grieving the Holy Spirit
Quiet your mind & God will speak to your spirit

Putting on the FULL psychological/spiritual Armor of God in order to stand AGAINST the wiles/lies of Satan/Lucifer:

loins girt with truth (belt of truth)
breastplate of righteousness
shoes with the preparation of the gospel of peace (peace through strength)
shield of faith
helmet of salvation
sword/gun of the spirit/word/will of God, which is the Knowledge of the Word of God
Shield of the Trinity
Knowledge of God's Word/Will
Word of God: a manifestation of the mind and will of God; the sacred writings of the Christian religions; "he went to carry the Word to the heathen"; the message of the Gospel of Jesus Christ. It helps counterattack ALL plans/lies & deceptions

We need to have a CLEAR relationship with God's Holy Spirit
True Judeo-Christian Teachers/Prophets
NEVER let Satan take a foothold in your lives
Worship God in both spirit & truth. God wants those who tell the truth, those who are IN truth & NOT those who tell lies. While Satan is the father of lies, Jesus Christ is the father of truth. Truth is the ONLY way to God. God & Jesus Christ want you to REJECT the family/children of the devil & come into the truth of Christ. So STOP LYING!! We must prevent ourselves from becoming like the children/family of the devil.
God wants you to get INTO the light of Jesus Christ & leave this darkness that is covering True-Earth Prime's planet earth.
Develop a strong mind & you'll have a strong life
Safe guard your spirit from Satan/Lucifer, for he's like a roaring that seeks to devour. Safe guard your spirit & mind from his fiery darts. Stand AGAINST the works of the devil king & prevent him from gaining access to your heart, mind & spirit. There are 6 Things That you can avoid & protect Your Spirit

STOP continuing in sin, even after being redeemed by Jesus Christ. If we want to flourish in our walk with God, we CANNOT continue to live in the terrible state from which God saved us.
NEVER speak evil of one another, because he who speaks evil of a brother speaks evil of the law & judges the law.
Do NOT love True-Earth Prime's planet earth or the things of this planet. We have been called into a lifestyle that is different from the patterns of True-Earth Prime's planet earth. We have been raised up together with Jesus Christ, for our things should be focused on things above & not things on this planet
Spiritual Exercise in the goodness & perfect will & word of God
There is NO relationship between light & darkness
Remain discipline in God in order to maintain your walk with God. Even as you trust the Holy Spirit to help you, you must make conscious decisions to stay away from people, things & circumstances that can affect you relationship with God. Discipline your body to ris eup & pray, study. Discipline yourself to say no to the advertisements of Satan the devil king
DO NOT quench the spirit. NEVER ignore the promptings of the Holy Spirit or neglect His instructions, for He has emotions & personality. You NEED Him

The gift of God is eternal life through Jesus Christ. Although God doesn;t hate the sinners, He hates ALL sin. You must repent & have a good relationship with God.
Overcome sin before it overcomes you. REMOVE the barriers of sin in order to have fellowship of God. Practice the truth & walk in the light. Confess your sins & NEVER deceive yourself
The children of God must be obedient to God & NOT earthly government. They must keep His commandments to have their prayers answered. What He requires for us is to live a sinless life.
NEVER trust every angel because Satan disguises himself in ANY form (like the seprent & as an angel of light) & he is DECEPTIVE!! It's time to open your mind of understanding & tell God to help your to avoid EVERY path of Satan so that you'll never become prey to Satan. Don't believe every spirit, but TEST the spirits, whether they are of God; because many false prophets have gone out into the world of True-Earth Prime's (the universe & reality that you & I are TRULY in) planet earth
Stay awake (both psychically, psychologically, spiritually & mentally) & be ready to rebuke Satan the devil king at ANY point in time. We shouldn't sit back & wait til he disguises & knock at our doors. We need to grow UP in Christianity & NOT remain like infants. We need to start seeing things from a PROPER angle, we need to give ourselves to God's Holy Spirit, & we need to be about to know the truth & know what is not true. You need to stay AWAKE all the time. STOP sleeping in the spirit
Pray for your families & friends & pray for the people around you. DON'T isolate yourself just Satan can use ANYONE. You must pray that God / Jesus Christ will shield them from Satan/Lucifer & that you never fall for Satan's temptations. Our prayer life is a DIRECT reflection of our commitment to God
5 Things That You Should NEVER do to The Holy Spirit:

1) Do NOT resist the Holy Spirit, but ALWAYS resist Satan the devil king who deceives & kills
2) Do NOT grieve the Holy Spirit & DON'T make Him sad
3) Do NOT quench the Holy Spirit or you'll lose the guidance of God

Applying the Word of God in your life. Be the doers of the Words of God & NEVER deceive yourselves
NEVER disobey God or His Word
Allowing the Holy Spirit to lead & ALWAYS ask Him for help

4) NEVER lie to God or the Holy Spirit & NEVER play games with them
5) NEVER blaspheme/curse or speak ungodly things about the Holy Spirit

Don't play games with God, but ALWAYS resist Satan the devil king who deceives & kills
The Holy Bible DOESN'T tell us not to plan because we believe Jesus Christ will take the wheel. In fact, the Bible recommends GOOD planning. He asked us to plan, plan against the plans of both the Devil & the Left. Never overthink!
Stop allowing the Devil king to dictate your life & don't let him call the shots in your life. Stand your ground & protect your friends & family from all unclean spirits.
WE must NEVER be weary because Satan is NEVER tired. We must GIRD ourselves with the WHOLE armor of God for us to survive to the end. The war is being waged in the spiritual dimension & it's manifesting in the physical / True-Earth Prime dimension. WE must NEVER cease praying to God & Jesus Christ!! God FIGHTS battles in both the physician & spiritual dimensions of True-Earth Prime (the universe & reality that you & I are in) for us WITHOUT us knowing. WE need to be CONSTANTLY thankful for all the things God does for us. NEVER take ANYTHING for granted, but always have a thanksgiving attitude. Pray in the spirit even harder against the works & plans/plots/schemes of the devil king & the Left.
STOP Blocking the Favor of God. The Favor of God is like a shield that can shield you from the attacks & tactics of Satan the devil king.
Living a humble life as the head, NOT the tail. And don't let sin block your face from God. Hold on to the Hand of God, the place of safety.
NEVER cover your sins, but ALWAYS forsake your sins & ask Him to him you in any areas of your weakness & watch Him take over your weakness.
Repent of ANY known sin in your life & be ready to let go of your sins, no matter how little they are. Run away from ALL sin before they consume you. Run away from ANY corruption that doesn't permit us.
Praying Properly: Asking God for different things for right reasons. Clean your heart, purify your soul & God will answer you. Worship God in spirit & in truth & in the beauty of His Holiness.
Do NOT let pride & ALL negative & destructive things/qualities in your personalities.
Stay away from being the Enemy of God & listen to the words of Jesus Christ.
NEVER being friend of both God & the world of planet earth, AKA, Hell, at the same time. You cannot have foot in Heaven & have a foot Hell at the same time. There is NO such thing as spiritual neutrality.
There are many things that God LOVES:

People having a calm body/mind
Hating people who are disgusting, degenerate & don't deserve to be in America & Israel
Hating just how demoralized & how quickly & easily fooled humans of True-Earth Prime's planet earth REALLY are in many ways
Offend planet earth & be it's enemy
Hating potty-mouths
Us controlling our emotions (including anger) & staying calm. We must ALWAYS remember the dangers of unrighteous anger & NEVER act in haste.
Turning to God / Jesus Christ / Holy Spirit & the RIGHT people for help
NOT Scoffing/Mocking God, Jesus Christ & the Holy Spirit
Ears (in the heart, mind, body, gut & soul/spirit) that physically / spiritual / psychically / intellectually / attentive hear & eyes (in the heart, mind, body, gut & soul/spirit) that physically / spiritual / psychically / intellectually / attentive see the Truth/Voice/Word of God, especially through ALL deceptions/lies, & act on God's warning. We must take HEED for the warnings & truths coming from God / Jesus Christ & the Right. Be obedient of God & NOT to Satan/Lucifer or to earthly/corrupt governments / politicians / bureaucrats & the wrong people (the Left), so that you can receive the spiritual mysteries of God's kingdom.
NOT bargaining with Satan the devil king
Clean/Righteous/Holy Hands & Pure/White/Clean Hearts/Souls/Minds: you must keep your heart clean & pure. Flee from ALL sexual immorality & flee from ALL the damages of evil
Hands that are Holy without doubting or wrath
Using feet to take you to places so that you can spread the gospel
The behavior & characteristics of the Children of God. DON'T behave like the children/occults of Satan the devil king or ANY of his traits, including lies/deceit. Obey ONLY God & shun the ways of darkness. Always tell the truth in all that you do, in whatever situations you find yourself in.
Trying to be immune to the lusts/temptations of both the human eyes/flesh

Believe in God's power to save & walk in perfect sinlessness as King Hezekiah did
Spiritual/Psychological/Mental/Supernatural Weapons of God / Jesus Christ: ones that DON'T allow the weapons/plans of Satan to prosper. The weakness & foolishness of God is STRONGER than that of humans
Stay away from the things that can attract the arrows of the devils & remain spiritually/psychologically awake
Quiet Your Mind And God Will Speak To Your Spirit
Don't let Satan & his demons & devils drag you back into the darkness of planet earth
Protect YOUR Family & Home From Evil Spirits. We have to make the Holy Spirit the head of our home. The true Spirit of God is profitable for everything that concerns our life & living. He will lead us & guide us on what is God's & what represents Satan the devil king. We need to fire ourselves up & take away whatever attracts Satan into our home & life. Spiritually cleanse the house/building of any/all satanic/demonic activities & darkness/evilness. Allow the incorruptible spirit of God into your home, for it's the spirit of truth in God's presence. Don't use music that attracts Satan.
What makes you MORE powerful than Satan/Lucifer the devil king is God through Jesus Christ!!!!
Always guard you heart, mind & soul/spirit from ALL smart/cunning demons/devils & unclean spirits, & reject them ALL, expecially in churches. NEVER deny the powers of God / Jesus Christ & don't live a prayerless life. Let the Holy Spirit of God remind inside the human body & EXCLUDE demons & wicked spirits.
DON'T weak your spirit
God has given us a Sound Mind & NOT the spirit of fear. Keep or eyes on the greatness of God.
We need to find & connect to the community of conservative / right-leaning like-minded people, people who desire & thirst for righteousness, people who are hungry to win souls for Jesus Christ
We must makes resolves in our hearts & minds NOT to let Satan penetrate them & NOT let sin easily ensnare us. We need to stand our ground & understand that God plans your our lives is GREATER than our present sufferings. We need to lean over MORE onto God's Words for victory & breakthrough!
How to CONTROL Your OWN Human Body & Stay AWAY from Sinning, Especially Before the Judgement of God:

So don't EVER side with what is evil in His eyes & DON'T EVER lust in your eyes {meaning remove your eyes from evil & CONTROL them}, no matter what sinners (mainly our earthly enemies, the Left) say or do
Don't say anything evil/ungodly or deceitful/manipulative. Take control of your mouth & saying truthfully/honestly. ALWAYS know how to listen before speaking all the time
Do NOT shed the blood of innocent people (especially if it's someone on the Right) & NEVER use hands & thoughts to commit evil!! Use your hands to worship God
Control you feet & NEVER let them rush/run to do evil!! Never go to places of inequity/immorality
In the human mind & heart, DON'T let Satan have ANY opportunity to enter the mind/heart. NEVER think of ungodly/immoral things, especially with / without other people. Think of heavenly/pure things only & GET RID of ALL evil thoughts
Never take liberties with sin & NEVER entertain it!! Have confidence in the Word of God (the antidote to rid the tight grip/sting of sin OUT of the heart) & remain both Holy & blameless in life (both inner & outer)

To Avoid ALL of the Satanic Packages:

Make your life right in God's Eyes because Satan the devil king is getting DESPARATE & ultra smart in ALL of his tactics before he gets casted into the seas of Hell's fire, but he DOERSN'T want to go there alone because he wants as MANY people to be cast in there with him. Stay on the RIGHT path (God's right path) & stand your ground & pray without stopping
Reject ALL earthly things, be alert & on guard (physically, psychologically/mentally/psychically & spiritually). Christians must WAKE UP & stop being victims of evil spirits. Reject ALL sinful things & stand for truth, no matter how many times or being persecuted. Stand against ALL evil & fight
Make time & talk with God / Jesus Christ, & REPENT of your evil/wicked ways by letting go everything (including ALL secret sins) that God hates.
Stay away from ALL secret/evil groups/societies & the circles of evil people, & NEVER tell them about your life. Keep on praying to God & NEVER let your guard down. We need God to open our eyes to the TRUTHFUL people & the EVIL people around us so that we know who we can avoid. Talk to God before you can talk to humans & let Him direct you & teach you what to do
DON'T be afraid of the evils (whether they be human our spiritual/demonic/divine) & their king, Satan/Lucifer. Be strong today & trust in God / Jesus Christ
Reject the demonic persistence, including that of Satan & the Left, & guard yourself & NEVER let your guard down. NEVER let any form of struggling get the better of you. Don't ever give up, especially when you overcome temptations of satan the devil king, & NEVER sleep/rest (not even spiritually or psychically). Always be close to Jesus Christ
Be VERY careful on which church you go to

Anti-Evil / Anti-Demonic Spirits: spirits that are of God

How to Avoid & Overcome/Destroy evil spirits:

The way to stop seducing spirits from leading you away from God is to know God & His word for yourself. Always compare to what the Holy Bible says & speaks AGAINST both false teachings, seducing spirits & the doctrines of devils. We must break ourselves FREE from EVERY seducing spirit. God doesn't want us to give heed to the spirits of seduction because they will ALSO make us loose our way. It's good hunger & thirst for God in the spirit, but you must be careful that you're NOT fed with poison & NOT be seduced into drinking poison. DON'T joke the seduction spirits
You need to know the WiOd of God for yourself & DON'T rely/believe everything that everyone says
Stray AWAY from ALL Satacin/Devilish Acts: Jesus Christ DIDN'T bring us out the darkness just to carry darkness everywhere we go & He DIDN'T rescue us from the hands of the devil king for us to carry Satan's traditions in us. We must identify these satanic acts & make sure that we DON'T go into them. If we've been involved in these acts, there is a need for us to BREAK them AWAY from our lives, because the truth is that MANY of these satanic acts attract curses into people's lives. You need to ask God for knowledge/wisdom & to open your eyes (physical, spiritual & psychological) to see & open your mind to know things. There are MANY satanic things out there that people (mainly the Left the elitists [Democrats, RINOs, career politicians, bureaucrats, Hollywood elitists, abortionists, etc.]) engage in but there are 5 of them which cover the LARGER percentage of these satanic things & we must avoid ALL of them in our lives

Stay away from ALL evil covenants, a blood/demonic/denominate covenants in fact which are NOT recognized by God as the Blood of Jesus Christ but one that summons demons. If you entered it one before, you need DELIVERANCE & to pray OUT of it. Just stay CLEAR of blood covenants & occult groups!
Stop sowing discord amongst Christians & DON'T let Satan use you to cause separation in the body of Christ. Stay away from false prophets, false teachers in the Bible, false pastors, & false teachings/doctrines. Do NOT promoting false doctrines amongst Christians & NEVER tell anyone to believe what isn't biblical or what isn't true
Be the TRUE Child of God WITH the qualities of the Child of God. ALWAYS tell the truth (which Jesus Christ is the father of) & NEVER choose the paths of Satan!! Allow truth to flow in you & RUN from deceit/lies
NEVER tempt God / Jesus Christ. You must pray HARD to break yourself AWAY from satanic things & have a renewed mind & buld a strong relationship with god
Focus on God's Promises & NOT Satan's lies

Test/Exam EVERY spirit (especially spirit that can take the form of the Holy Spirit or the angel of light) & confirm where they came from, & become Christ-like in order to glorify God & NOT Satan/Lucifer
Walk in the anti-evil / anti-demonic spirit & you will NEVER fulfil the lust of the flesh
Run away from ALL appearance of both sin & evil, anything that will cage us, anything that is ungodly that will make us become a slave we must run. DON'T entertain it or check it out because those are the things that flesh loves to do. Do NOT allow ANYONE (in the physical/human dimension & the spiritual/supernatural dimension) to destroy your relationship with God. AVOID ALL poison/venom & addiction, & DON'T open the door (physical, spiritual & psychological/mental) that allows evil spirits to enter your house/body. Do NOT be misled, because BAD company corrupts good character; come back to your good senses & STOP sinning & stop being ignorant of God. Remember that Jesus Christ, the Son of God, is MORE powerful than sin & demons/devils. Always run from sin as if you're a runaway slave.
Devils, Devils evil spirits & fallen angels are ALWAYS more intelligent than us humans & they have been around ALOT longer than we have, using trials & errors that work & don't work. You must NEVER invite them into your life & NEVER fall into their paranormal traps. Attack ALL demons & ghosts & cast them ALL OUT. NEVER summon spirits
Tell the spirit of condemnation that there's NO place for condemnation in those who have Jesus Christ in their life & on their side. Jesus has the power to cancel out condemnation in your life
Stay away from the Negative effects of an Unforgiving Spirit. But we, the Right, never forgive/love the Left & their evil allies (China / CCP [Chinese Communist Party], Democrats, RINOs [Republican In Name Only], the establishment, the elitists, the Marxists [especially cultural Marxists, good, Marxists, etc.], fake/woke Christians, idolaters, demon/Satan worshippers, woke / cancel culture mobs, radical Islamic terrorists [Taliban, ISIS, Al Qaeda, Hamas, etc.], the Biden regime, the Obama regime, BLM [Black Lives/Lies Matter; or should they be Beelzebub, Lucifer & Mephistopheles], Antifa [Anti 1st Amendment], socialists, communists, abortionists, indoctrinators, fornicators, the "experts" [liberal/leftist people who pretend to be experts but are actually fakers], Never-Trumpers, liberals/leftists, election thieves / voter frauders, activist/progressive judges/juries, the deep-state [woke intel committee, woke health committee, woke education / academia committee, sports, corporations, etc.], the Woke, poachers, illegal traders / dealers, smugglers / traffickers, evil / liberal / leftist intellectuals / schemers, etc.) for what they've done unless they TRULY repent & change their ways, especially when they're STILL the blind / unreasonable children of Satan the devil king. Never underestimate / overestimate them at all!!

Spirit of Hope
The Holy Spirit of God
Spirits of helping mankind become IMMUNE to the evil spirits (seen on Seven Deadly Sins)
Spirts of Deception/Seduction Immunity
Spirit of Seeing through ALL Deceptions/Lies/Seductions & manipulated realities
The Divine Wrath of God
The Divine/Holy & Anti-Satanic Trinity (God the Father, Jesus Christ the Son & the Holy Spirit who directs people to worship God & Jesus Christ)
Spirit of Truth
Many others

6-7 Ways To Break Free Of The Evil One

Part 1

1. We reign through knowledge
2. Continue to seek knowledge
3. We must think things through
4. Instead of worry meditate
5. We must take spiritual responsibility
6. Always ensure that you stand in righteousness
7. Fight the good fight of the faith

Part 2

1. Look at the nature of the attack
2. Find out what the God says
3. Do what the word says concerning the situation
4. Pray and lose yourself from the stronghold.
5. Starve every negative habit that you cultivated
6. Make studying God's a part of the routine.
7. Stay away from people who drag you down.

Don't let Satan-influenced people influence you & DON'T fall for the ploys of the devil king. You just need be influenced by the Holy Spirit ONLY!! Don't allow someone in your life to influence you & your eternity & DON'T give in to them. NEVER stop serving God / Jesus Christ. Allow Christ to be the one that influences you & follow his path. Let the Word of God influence you.
DON'T sell your souls to Satan the devil king of True-Earth Prime's planet earth & NEVER let greed/avarice tempt you or take control of you. Reject all earthly gifts that will lead to greed/avarice & never let money become god.
Stop making ALL excuses, for God DOESN'T want to hear excuses. Receive the Blessing of God & LEAVE excuses alone
Reject Passive & Weak Christianity. Don't let lust into eyes.
Stay away from doing/engaging in paranormal activities (especially the game called "Charlie, Charlie") & ungodly pronunciations. And NEVER find power elsewhere when Jesus Christ has given us power & NEVER experiment with what He doesn't allow. Never remove yourself from the shadow of the Almighty God!!! Educate families about the spiritual/supernatural dimension of True-Earth Prime that cannot be explained scientifically
Always be a stubborn/powerful threat to the kingdoms/governments (including planet earth) of darkness, Hell, demons/devils dark/evil ones/spirits & liberals/leftists. Take it SERIOUSLY like how Jesus Christ (God in human form) did & DON'T be a victim/scapegoat (ones that are tormented in the kingdoms of darkness). Pray with FIRE in you & KNOW God while NOT being afraid of Satan/Lucifer the devil king!!!
Pursue peace (not peace through tyranny) with ALL people & holiness, that way you'll see the face of God
Stop overwhelming & stop overthinking everything. Resist ALL forms of procrastination & laziness
Don't be idle & don't be like the idle people (the Left). Never enjoy sin or any of the Left's versions of the virtues
Stay spiritually/mentally awake & pray HARD to God / Jesus Christ, & DON'T sleep in the mind/spirit while praying AGINST both evil people & the devil king's seeds of evil. Pray that evil will NEVER win your heart
Don't repay evil with evil. Do good things to others & DON'T let evil in your hearts
Softening one's heart for God & make the DELIBERATE choice to follow God / Jesus Christ in order to stay AWAY from Hell & go to Heaven
Guard Your Heart, Thought & Mind With All Your Strength - Create A Healthy Heart. Glorify God in your body & spirit, & don't let planet earth lead you astray. Resist the wiles of Satan the devil king & close ALL loopholes in order to prevent him from launching attacks in your minds
Creative Forces of Christ
Stop believing that Jesus Christ cannot forgive because of what they've done
Never lack self-control & you'll never be a slave to emotions, flesh (your own bodily flesh), etc. Never view sin or sinful behavior as acceptable or as a culture. NEVER justify sin!!!
Avoid ALL Satanic doors & NEVER open them. Reject ALL the goods stuff or the flashy things of life that Satan offers you & avoid the ways of both government, the Left & Satan the devil king. Stay the heck AWAY from be conformed by planet earth, because Satan the devil king is the TRUE god of this planet. Always watch & pray to NEVER be falling into temptations because the planet earth WILL influence you.
Flee from ALL sexual sin/immorality & stay away from the strongholds of both Satan & the Left
Ask for the Voice of God's Holy Spirit & hear His voices. NEVER replace it with the voice of fear
Eject Satan & all of the demons/devils & fallen angels from your hearts, minds & souls/spirits. Resist the kingdoms of darkness in your life & focus on God / Jesus Christ dwelling in your hearts.
Stop covering/hiding your sin. Anyone confesses their sin & forsake them will prosper & have mercy
Avoid the Human Flesh: Prevent the flesh from blocking your prayers to God, but don't underestimate the power of prayer. Take prayer VERY seriously & pray more! Don't let anybody (including the Left & the Marxists) deceive you & don't live in an exposed life. Don't fall asleep (physically / materially, spiritually & psychically / mentally / psychologically), just wake up (physically / materially, spiritually & psychically / mentally / psychologically) (open your spiritual/psychological eyes & stand) & stay the heck away from letting your guard down. Rise now & STRENGTHEN your spirit with God's shining light & glory, for prayer is something you must never forget in your life. Never pray in the human flesh or by the leading of the human flesh & never appear to God in the flesh. God is NOT a lustful god & He's NOT a lust enabler. The Eyes of Gods are too pure (purely good) to even look at sin or its appearances. So pray in the spirit & truth at all times & make sure that it's NOT the human flesh that is controlling you. Let God's Holy Spirit lead you in prayer & tell the human flesh that we're not in its control. Always walk in the spirit (not in the evil spirit) & never fulfill the lusts of the flesh. Allow Jesus Christ to wash you clean in His blood.
Wake up & focus on the one who can spiritually & psychologically save one, Jesus Christ. Don't listen to your feelings & don't listen to your guilt. Listen to the Word of God & have faith in it. When you ask God for forgiveness, believe that you've been forgiven. You need to believe that you've been saved/forgiven & start a new life (not the life of the Left or the Democrats/liberals of True-Earth Prime's planet earth). Have faith that God can forgive you of the sins you've committed. Stay away from having negative views of God & stay away from listening to the voices of Satan the devil king.
Don't let Satan or any other devil put thoughts or desires into your minds/heads. especially when studying the Word of God.

5 Ways to Stop Destructive Behavior:

Break the Cycle of Shame: Shame is a negative feeling directed at yourself, such as saying, "I'm a bad person" instead of "I did a bad thing." Shame often drives self-destructive behaviors in an attempt to ease that pain. Engaging in those behaviors perpetuates the shame and leads to more self-destructive behaviors. This can be a difficult cycle to break. Start by replacing little harmful behaviors with those that are healthy and which foster pride, the antithesis of shame. For example, instead of telling a white lie, tell the truth. Take responsibility for your little messes, and make positive lifestyle choices that promote good physical and mental health. Improving your self-image will help you let go of the shame, and you'll be less likely to want to engage in the behaviors that bring it back.
Don't Believe the Negative Self-Talk: It's not easy to break a self-destructive habit, and negative self-talk only makes it harder. Telling yourself that you're weak or stupid is not only destructive in itself, but it's also not true. Identifying and changing harmful ways of thinking can go a long way toward curbing self-destructive ways of behaving. Next time you have a negative thought about yourself, stop, think and re-phrase it in a more positive way. For example, instead of saying, "I'm weak," say, "I feel weak right now, but I know I can do this."
Get Support: Overcome Evil with Good! The power of support from friends, family and peers can't be underestimated. If you're trying to break a bad habit, encouragement and input from others is invaluable. Tell a supportive friend, family member, or support group member what behaviors you're trying to change. Ask them for encouragement and help with holding yourself accountable. Supportive friends and loved ones can empower you, cheer you on, and offer wisdom when you're having a hard time.
Use Failure to Learn: You probably won't be able to change all of your self-destructive behaviors overnight, but you can use your failures to learn better ways of curbing them next time. Think about what made you choose to engage in a self-destructive behavior against your better judgment, then think about ways to circumnavigate that roadblock next time. The attitude with which you meet a failure helps to determine the ultimate outcome. For example, if you use drugs or alcohol once you're in recovery and you beat yourself up about it and engage in negative self-talk, you're more likely to experience a full-blown relapse than if you assess the situation, learn what you can from it to help you better cope next time, forgive yourself and move on.
Prepare Ahead of Time Against the Left: Becoming aware of what triggers unhealthy habits can help you forestall engaging in them. For instance, if you're trying to quit smoking, plan ahead for situations that make you want to smoke and work out a strategy to cope with the discomfort. Once you're in the tricky situation, stay mindful of your thoughts, feelings and attitudes and try out your coping strategy. If it fails, use your failure to learn what you might do differently next time.
Stop becoming a mean, hateful & nasty person at all cost

Rejecting/Resisting "the Urge to do Bad": those who hate evil/sin & refuse to worship Satan, government & the Antichrist
Anti-Elistism, Anti-Establishmentism, Anti-Politicianism & Anti-Bureaucratism

Real / Unbroken / Anti-Failed / Successful Promises: God never fails in His promises, even though they take TOO LONG for us humans of True-earth Prime (our universe & reality) to be fulfilled.
Donald-Trumpism (including the Trump Agenda/Movement)
Ronald-Reaganism (including the Reagan Agenda/Movement)
Abraham-Lincolnism
Republicanism (That element is comprised of America-first Trump conservatives and constitutionalists who want to preserve the best parts of our founding: Real equality; maximum liberty; guaranteed freedoms; small government; opportunity for all; self-determination; responsibility; and self-government. After all, unlike the Republican Party, the Democrat Party has been hijacked by Left-wing extremists, abject communists, socialists, and Marxists who hate republicanism and seek to impose a brand their brand of groupthink tyranny on all. USA President Donald John Trump and a handful of Republicans are all that stand in their way. There are UNFORTUNATELY a few republicans in the House & Senate left that have the balls): Constitutional Republic in fact.

The Good side of Trumpism: FORCING TRUMP TO LEGALLY APPOINT RUDY GIULIANI AS SPECIAL PROSECUTOR W/SUBPEONA & INDICTMENT POWER TO STOP STEAL. Force USA President Donald John Trump to listen to the RIGHT people in his cabinet & make him use the Insurrection Act, Martial Law & any other of the constitutional/presidential tools that he has including seizing the dominion voting machines. Appointing the RIGHT electors for President Trump. Telling ALL of the politicians (Democrats & RINO [Republicans who DON'T have the balls]) that we have had enough!! Snapping people AWAY from fear & herd mentality. Wanting the BRUTAL TRUTH everyday have the balls & wanting the lies, the Left & the Democrats to be STRIPPED of their balls. Shutting down the government & NOT the nation. Prevent Trump from listening to the Wrong people he selected in his cabinet/administration & make him listen to the RIGHT people like Giuliani.

MAGA Movement/Party ('There are 80-90 million of populist nationalist Americans out there & it's time to BURY the Republican/RINO Party [the former party of anti-slavery & anti-tyranny] & Democratic/Demonrat Party [the party of tyranny, enslavement & Satan] like the WIGS they are!!', 'USA President Donald John Trump needs to IMMEDIATELY [like tomorrow or the next day] say "you know what, I've decided to take ALL of my supporters [80 to 90 + million of them]. And with MY money & everything else, I'm gonna open up the MAGA Party [WAY STRONGER & SMARTER & more ahead than the Democratic & Republican parties COMBINED] & I want all to join!!" & EVERYBODY who voted FOR him would AUTOMATICALLY DROP the Republican Party & see them SCARED crudless because the Republicans NEVER represented us or our values anymore', 'We can STILL fight back against BOTH the Democrats/Demonrats & Republicans / RINOs at the local & state levels. Let's not be passive watchers of the Josh Bernstein Show & be ACTIVE watchers, because we have to be pro-active [meaning having to do email campaigns, reach out to folks on the phone & do whatever we can] & very, VERY active, even if it means being a TRULY committee member!!', 'We need to get EVERYBODY [legal & NOT illegal] registered to vote & ready for the next elections. NEVER be too old to have your voices heard & run for state/senate/representative seats & for city council!! We NEED to get the people who are TRULY populist nationalists like us conservatives & the Right that SUPPORT USA President Trump & get them into positions of power on the local & state levels, & PRIMARY both the Democrats & RINOs & then CHANGE the election laws [ONLY for the greater good of the Right & America] in order to take America BACK!!!', 'We need populist nationalists to run for office ALL AROUND America, start at the local level. Trump should create Trump TV & Trump Social-Media so that we can have what Barack Hussein 'Insano' Obama did, & that's a shadow government that is not only CONSTANTLY keeping an eye on those communist actors & what they're planning on doing, but more importantly showing them that there's ANOTHER shadow government that's gonna DISRUPT them at EVERY SINGLE turn!!!', 'Stop identifying your voter-registration as a Republican/Democrat & change it to an independent, although some states don;t allow independents to vote. The MAGA would be STRONGER & smarter because there's MORE of us than there are of them', etc.)
Trump/Reagan Machine
Pro-Working / Anti-Political Class
Anti-Elitist Mentality
Less Regulations / Never Too Much Regulations

Giving the people power / Giving the government less power & less control / Taking power away from the government & give it to the people
Most members of Congress go to Washington DC to serve themselves, not their Constituents. But there are a few who actually serve the best interest of the people.
Not Changing/Rigging/Bending the Rules/Systems: Changing the election rules in the Right's favor
Less Laws/Rules (including 'NO MORE dystopian laws', 'NO governmental involvement in society', less government, etc.)

Anti-Government (meaning small government, limited government, 'NO governmental/bureaucratic control', Anti Government-run businesses, Anti-global government, far-right government, 'Never wanting absolute power', 'Never wanting to grab power, control & money', Individual governments, self-government, 'Shutting down government', "Government OF the people, BY the people & FOR the people", 'Never/Against 1-world government', 'Preventing government from going out-of-control', Anti-Tyrannical Governments, 'keeping government from getting out of the Right's control', Constitutional Republic, Federal Republic, Republican form of government, 'NOT trusting government', 'not mandating anything', etc.): Most members of Congress go to Washington DC to serve themselves, not their Constituents.
Good Politics
Filibuster
Anti-Establishment
Using power/leadership & intelligence/wisdom in a good & smart way/fashion. That's how the Right & the anti-RINO Republicans & USA President Donald John Trump do. If you want to beat the Left, you've got to join them & use their tactics AGAINST them
The True America (Trump's America, Lincoln's America, Reagan's America, Coolidge America, George Washington's America, JFK's America, & Red-State America)
Conservative/Right-leaning/Capitalist Administrations (Trump Administration, Reagan Administration, Coolidge Administration, Theodore Roosevelt Administration, Eisenhower Administration & Lincoln Administration)
Being a Powerful/Prayerful/Strong Christian (a Christian who stands up & is voicing out & taking action)
Red State
Nation-Building
Humans rejecting absolute/unlimited power/control
Decreasing taxes & the minimum/worker wages
Changing the rules/laws for the Right's version of greater good
Having a stronger/smarter/braver/tougher/serious country/nation & hiring real alphas (someone who TRULY has grit, power, tenacity & might)
Condemning the sin that they committed & correct the sinner with love
Conservative/right-leaning/good pronouncements
Stopping/Undoing the Left's radicalism, renormalizations & infiltrations
Not mandating anything that comes from the Left
Antitrust
Making government yield power to the people (but not people on the Left & the 3rd-Party)
Never negotiate God's Laws
Never be dependent on government
Having a more SERIOUS country
Keeping liberals/leftists, Marxists (especially cultural Marxists & good Marxists), socialists, communists, progressives, globalists, authoritarians, totalitarians, draconians, egomaniacs, power/money/control mongers/lusters, rapists, thieves, murderers, demon/devil worshippers, Satan worshippers, dark/black magic users, Islamists, megalomaniacs & the religion of Self AWAY from elections, higher authority & from America/Israel
Red Transplants

Good / Anti-Evil Wishes ('I wish that God INFINITELY & COMPLETELY brain/mind-controls the minds/brains, hearts & souls/spirits of ALL True-Earth Prime's [out universe & reality] homo-sapiens & other species of both sentience & sapience, so that way NONE of them will do what is evil in His eyes at all or fall victim to the satan pantheon's infinite lies & manipulative / psychological / pathological / mental control or that of the spiritual powers/rebels horde', 'wishing that the Left's tactics of voter fraud NEVER exist', 'wishing that power & control NEVER came into existence', 'I wish that God was NEVER does/in this whole "a day equals 1000 years" mentality because we are getting TIRED & FED UP with the Left destroying America & we praying for His miracle of erasing the Left & the elitists & Democrats/politicians off the face of this planet/dimension', 'I wish that the Democratic Party & the Left NEVER existed', 'I wish that ALL the wikias weren't upgraded to new versions of the wikias [that have the edit & edit source {all they do is CENSOR & erase them, even though they have my editings after I click edit or edit source!! And after you click save & go back to it again, it's ALWAYS the same thing!!! Also, when I tried to do the "edit source" on the new wikia versions {DC Animated Movie Universe Wikia, Heroes & Villains Wikia, Locomotive Wikia, EX515 Wikia, etc. for example}, I tried to link the page to the wikias, but all they do is HIDE the save button for every time I have to do the "Select all images with ..." stuff!!}]. I even wish that the wikia company goes back to the OLD versions of the wikias where you just do some editing & your editings DON'T get censored & they JUST have edit & classic editing. And I like it better when ALL of the wikias NEVER lock us out from editing the sources', 'I wish that the folks back in ancient times NEVER though/creation of the idea doing/making trade with China or conquer beyond the borders of the Persian Empire in the first place', 'I wish that Satan NEVER stole earth & mankind from God [not even slowly], & that man kind never corrupted themselves or each other', etc.)
Good Service (good customer service, etc.)
The Light Side (Good / anti-evil, Godly / anti-satanic)
Saintlike
Walking/Living in/with/by the Godly/Holy Spirit & not in the flesh
Aware/Caution/Wary
Anti-Loopholes
Vigilantism: be aware & vigilant of the spiritual wars/battles between God/good/light & Satan/evil/darkness, so that Satan has the opportunity to accomplish his schemes & DEVOUR us. Be aware & sober that Satan the devil king is ALWAYS awake walking about like a roaring lion, waiting for the opportune time, the time that we're not alert & vigilant so that he can accomplish his schemes & devour us. Always be aware of the physical dimension & the spiritual dimension, & ALWAYS stay awake. Be vigilant in prayer. Be sober & vigilant, because Satan the devil king is like a roaring lion & howling wolf looking for someone to devour!! We must be vigilant against the sin of lying/deceiving.
Spotless Record
Removing the Seeds of Evil: meaning getting TIRED of making BAD decisions
Synergy
Restraint
Industriousness
Good / Conservative / Right-leaning Imagination
Home/Family
Taking a stand for God / Jesus in a strange environment where sin is celebrated means that you fear God. The Fear of God is to hate evil, including pride & arrogance & the evil ways. Anyone will hate whatever God / Jesus Christ truly hates. You can NOT claim that you fear God & be toying with sin. The Fear of God makes a person to detest from whatever is evil or has the appearance of evil. Those who fear God must be as Holy as He is.
Cleanliness (meaning clean hearts/minds/souls full of positive & anti-liberal/anti-leftist thoughts) (including inner cleanliness)
Balance/Collectedness (trade balance, election/voting balance, judicial balance, etc.)
Godly Living / Godliness (Living both Holy & Blameless as the Holy Trinity [God, Jesus Christ & the Holy Spirit]) (being a godly human [man {like Moses & Samuel} & woman {like Ester & Ruth}])
Originalism
Textualism
Divine/Good Spiritual Strength/Wisdom
Holding on to God's unchanging hand
Ecclesiastical
Transparent
Realism/Realistic
Rightful/Righteous Anger/Indignation: Be angry, but DON'T sin & don't spend all day being angry. Don't hold anger in your hearts. Let the moment of anger pass you by. Control your anger before it gives birth to destructiveness & unforgiveness & lead to jealousy. Be slow to speak & slow to anger. Don't make decisions in your anger. Never lose your temper. The Wrath of God. Pray & act with anger in your spirit.
Evolution of Light/Goodness
Worshipping & Praying to God in the spirit
Colonialism
Holy Hands / Right-Handedness
Hearts filled with the Right/Holy Things
Christendom
Mental Toughness
Pity
Anti-Brainwashed Culture
Being Spiritually Rich/Wealthy
Contentment: saves us from greediness & other evils
Bona Fide
Praying: it involves faith in God, for He listens to prayers & NOT complaints
Sound Mind
Constitutionality/Lawfulness
Holy Wars
Strong & Anti-Passive Christianity
Doing the Right Thing for The RIGHT Reasons & Saying/Doing the Right Things/Ways from the RIGHT Motives: asking, especially for something good, for the RIGHT purposes. DON'T let your left hand know what your right hand is doing! Right motives are ALWAYS for God's honor & glory, & they NEVER seek approval from other people
Right Senses of Learning
Real/True Assurance
Good/Right Friends/Relationships/Associations/Company: God loves you, He cares for you & He has plans for your life. And one of God' s primary methods to brings His plans for your life into fruition is through people & friends. Meeting 1 person can change the trajectory of your life forever. So remove all wrong friends (the ones sent by Satan) from your life & they need to be KICKED OUT of your life! The Light/converted & the Darkness/unconverted are NOT the same, not even spiritually. But sure to CAREFULLY examine the lives of those that surrounded themselves with wrong friends & the effects/consequences that their actions brought upon them. As a parent, you need to be involved with your child's life & you need to make it your business to know who your children's friends are. One of the cheapest & surest ways to be freed from the entanglement of wrong relationships is to be able to discern the types of people that we walk with. Discernment remains one of the best REAL guides we need in this life. Don't fall victim to ANY devilish schemes/ploys & DON'T BE IGNORANT to the vices of Satan the devil king!!! You must run AWAY FROM the appearances of evil, especially from evil people known as the Left. Moving with the RIGHT set of people, mainly the TRUE children of God, & removing yourself from the WRONG sets of people, mainly the Left & the children of Satan the devil king. Christians today need to lead a righteous life of refusing to be influenced by the godless attitudes, especially the ones coming from the Left & career politicians. Remove those people who are causing you to fail in your life & cut them off OUT of your life. Have a TRUE life encounter with God / Jesus Christ

Putting faith in the right people & DON'T listen to the people on the Left or whose sent by Satan the devil king, because their (the Left) words DON'T matter
A TRULY good man brings good things out of the goodness stored up in his heart
People of Anti-Wickedness

Intrepidity
Good Works
Agnosticism
Satire
5 Godly Habits every Christian should have:

Be like Jesus Christ (not the Left's version of Jesus in fact) & out your habits in-check. You need Jesus to develop godly habits
Following peace (not "peace through tyranny", but "peace through strength") with all people & have the character of Jesus Christ
Holiness: live a holy life, but NOT in the Left's ways or the world's ways
Obedience to the Word/Will of God
Develop the habit of Prayer (not the Left's prayer in fact)
The fruits of the Holy Spirit: love, joy, peace, patience, kindness, goodness, meekness, faithfulness & temperance

Binary
Choosing the Right Path
Critical Thinking
Moderation
Strong/Fast Internet / Stronger/Faster Internet Connections
Parental Pride
Decomposition
Approbation
Anti-feminism
Masculism
Extended Links
[
]